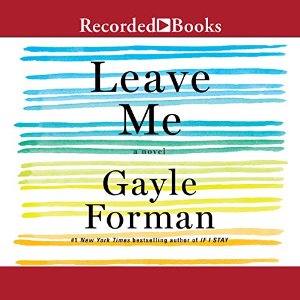 Leave Me
by
Gayle Forman
Narrator:
Eva Kaminsky
Published by
Recorded Books
on September 6th 2016
Genres:
Fiction
,
Contemporary Women
,
Literary
,
Family Life
Format:
Audiobook
Length:
8 hrs. 34 mins.
Source:
Purchase
Goodreads
Also by this author:
Just One Day
,
If I Stay
,
Where She Went
For every woman who has ever fantasized about driving past her exit on the highway instead of going home to make dinner, for every woman who has ever dreamed of boarding a train to a place where no one needs constant attention - meet Maribeth Klein, a harried working mother who's so busy taking care of her husband and twins, she doesn't even realize she's had a heart attack.
Afterward, surprised to discover that her recuperation seems to be an imposition on those who rely on her, Maribeth does the unthinkable: She packs a bag and leaves. But, as is so often the case, once she gets to where she's going, she sees her life from a different perspective. Far from the demands of family and career, and with the help of liberating new friendships, Maribeth is finally able to own up to secrets she has been keeping from those she loves - and from herself.
With big-hearted characters who stumble and trip, grow and forgive, Leave Me is about facing our fears. Gayle Forman, a dazzling observer of human nature, has written an irresistible novel that confronts the ambivalence of modern motherhood head-on.
Gayle Forman is one of my favorite YA authors, and so I was thrilled to see her make her Adult debut with Leave Me. She brings "all the feels" we've come to expect from her work in this new venture. Leave Me centers around an overworked magazine editor/wife/mom who takes drastic measures to reclaim her life when she has a heart attack at 44. She picks up and leaves everyone behind to take charge of her own recovery when she can't get a break at home.
Maribeth works full-time at her lifestyle magazine job, manages the household and takes charge of her preschool-age twins. Her husband works long hours and assumes a less active role at home. When Maribeth has a sudden heart attack, the pieces of their lives start to unravel. Husband Jason enlists Maribeth's mother to help pick up the slack, but she is not as supportive to Maribeth or her family as she could be. When a lice outbreak strikes both twins at once, Maribeth has had enough.
Maribeth leaves everything behind to take charge of her recovery. She has some cash to rent an apartment in a new city and to pay for her cardiac care. Having this health crisis also inspires her to look into her adoption records to see if there is a history of early heart attacks in her birth parent's history.
Forman makes Maribeth's story so relatable with showing the exhaustion and stresses of trying to do it all. It's hard to imagine leaving your kids behind but given her situation it didn't seem that she had much choice. This story is topical too considering Hillary Clinton's recent pneumonia and reluctance to take a day off from campaigning. Maribeth's story of self-discovery is fulfilling and satisfying and felt very real but still like an escape.
I listened to the Leave Me audiobook, read by Eva Kaminsky. Kaminsky is a new-to-me narrator, and she is a good fit for Leave Me. She conveyed the stresses in Maribeth's life well so it was easy to understand Maribeth's desire to leave for some much-needed R&R. Kaminsky's voice lent the appropriate emotional tone for this journey and made each character sound distinct. I did speed up the pace to better suit my taste and that worked well. This is an audiobook I didn't want to put down.
Fans of Forman's YA books should give this one a try, and also recommended if you liked Rainbow Rowell's Landline.
Related Posts