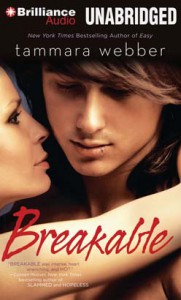 Breakable
by
Tammara Webber
Narrator:
Zachary Webber
Series:
Contours of the Heart #2
Published by
Brilliance Audio
on May 6th 2014
Genres:
Contemporary
,
Fiction
,
General
,
New Adult
,
Romance
Format:
Audiobook
Length:
11 hrs. 38 mins.
Source:
Publisher
Goodreads
Also by this author:
Easy
,
Between the Lines: The Complete Series
,
Sweet
As a child, Landon Lucas Maxfield believed his life was perfect and looked forward to a future filled with promise - until tragedy tore his family apart and made him doubt everything he ever believed.

All he wanted was to leave the past behind. When he met Jacqueline Wallace, his desire to be everything she needed came so easy.…

As easy as it could be for a man who learned that the soul is breakable and that everything you hoped for could be ripped away in a heartbeat.

Tammara Webber, the New York Time best-selling author of Easy, now delivers a daring and entirely new perspective on love, and why falling for it is beyond our control.

A college age, New Adult romance.
Easy fans rejoice: Breakable is finally out! Breakable is the companion book to Easy by Tammara Webber. Easy is Jacqueline's story, about a college girl with a broken heart who is reeling after an attack. She falls for her savior, Lucas, who has his own battle scars. In the second book in the Contours of the Heart series we get Lucas' backstory. Plus, we get to see the events from Easy from Lucas' perspective. This book answers all your burning questions about Lucas, and if you are a Lucas fan (*raises hand*) this book is for you!
What's the story? Landon Lucas Maxfield is a college senior who has worked hard to get to where he is and beaten some tough odds. Tragedy struck his family early on, turning his life upside down, and for a while it didn't seem likely he'd even get into college. Years later he's a star student, but still gun-shy about relationships, and his secrets are well guarded. He keeps busy with schoolwork and his many jobs that he needs to pay for school.  When he sees Jacqueline however, all bets are off. He has a chance to trust someone with his heart, but it won't be easy.
Landon – Breakable is two stories in one, and Landon/Lucas are two halves of the same coin. Landon's chapters deal with the past, up until he leaves for college. Lucas's chapters cover the present day, including the college years and his relationship with Jacqueline. If you've read Easy you know that there is some terrible tragedy in Landon's past, and hearing about it from Landon's perspective is about as heart-wrenching as you might expect. Landon's life unraveled in a heartbeat and that's spelled out in all its glory. The stories hinted at from Easy are fleshed out and we see the journey that led him to be the man he is with Jacqueline.
Lucas – It is so cool to get Lucas' perspective of the events in Easy and to fill in some of the blanks about this mysterious tattooed and pierced "bad boy." I have to say all my questions about Lucas were answered in Breakable. Some of the things I wondered about from Easy: Does Lucas have any friends (besides Francis the cat?) How did he end up at the nightclub dancing with Jacqueline? Why did he keep up the Lucas/Landon deception for so long? Why was Lucas so distant before winter break? And did Lucas know about "Operation Bad Boy?" All of these questions and more are answered in Breakable.
Easy redux – Every Lucas/Jacqueline scene is included in Breakable, plus bonus scenes. You don't have to read (or re-read) Easy first because a lot of the story is covered, though it is through different eyes. I did re-read Easy recently though and didn't feel like Breakable was repetitive. It was so interesting to me to see the story through Lucas' pov, and Lucas' voice is very distinct from Easy's Jacqueline. Jacqueline is not the focus of Breakable, and consequently her character is not so fleshed out here, so you may want to refer to Easy to get the big picture.
The Audiobook – Zachary Webber performs this audiobook, and I'm familiar with his narration from Red Hill, A Beautiful Wedding, and Maybe Someday. Fun fact: Zachary is Tammara Webber's son! So, that must have been a benefit to be able to ask mom about a characters' accent, or pronunciation or what have you. Webber has a throaty voice that's a good fit for Lucas. He has to go through a full range of emotions to perform Lucas/Landon's parts. Webber does a great job of conveying Mr. Maxfield's emotional landscape in Breakable, from his childhood years to the present day. He has a wide range of voices in his repertoire, from Lucas' calm and cool voice, to the various girls/women in his life, and he does a mean "old man" voice. I sped up the audiobook a little because I was impatient to get through the book, though Webber's pacing was steady and consistent throughout. I'd listen to this audiobook again. Check out a sample:
It was a treat to get inside Lucas' head and revisit Easy's world. Honestly I wouldn't mind if this series continued-there were a couple spinoff worthy characters introduced, so who knows?
Read Breakable if you like: Easy by Tammara Webber, The Sea of Tranquility by Katja Millay, Maybe Someday by Colleen Hoover. This series is essential New Adult reading.
Related Posts