The Merciless
by
Danielle Vega
Narrator:
Amy Rubinate
Published by
Brilliance Audio
on June 12th 2014
Genres:
Young Adult
,
Horror & Ghost Stories
,
Social Issues
,
Bullying
,
Friendship
Pages:
336
Format:
Audiobook
Length:
6 hrs. 17 mins.
Source:
Purchase
Goodreads
Brooklyn Stevens sits in a pool of her own blood, tied up and gagged. No one outside of these dank basement walls knows she's here. No one can hear her scream.
A terrifying tale in the tradition of Carrie and The Exorcist.
Sofia Flores knows she shouldn't have gotten involved. When she befriended Riley, Grace, and Alexis on her first day at school, she admired them, with their perfect hair and their good-girl ways. They said they wanted to save Brooklyn. They wanted to help her. Sofia didn't realize they believed Brooklyn was possessed.
Now, Riley and the girls are performing an exorcism on Brooklyn - but their idea of an exorcism is closer to torture than salvation. All Sofia wants is to get out of this house. But there is no way out. Sofia can't go against the other girls…unless she wants to be next….
For mature audiences only.
When I was a teen I used to gobble up horror films and Stephen King books until the wee hours of the night, but not so much anymore. When I heard about The Merciless I had to give it a shot though- there is something so thrilling about scary movies/books in the summertime. The pentagram on the cover of The Merciless lets you know that evil is afoot, but it's also pink so maybe it won't be too scary, right? Right?!
Well, for me, it was too gross and scary, and I was looking over my shoulder at night after I read it. If you can't get enough of horror though, I'd recommend giving this one a shot! I think it will work even better as a movie (movie plans are in the works – let me know how it is!)
The Merciless is about a group of girls who get together one night in an abandoned house to perform an exorcism on a girl in need of saving. Sofia is the new girl in town, but quickly she becomes friendly with the popular clique at school. She soon finds they are quite religious, even insisting on baptizing Sofia in the girl's bathroom. Riley is the Regina George of this trio, and she warns Sofia about Brooklyn, an edgy girl with a reputation for doing some unspeakably cruel acts. When Sofia spies Brooklyn doing something questionable at a party, she runs to Riley, setting the plan in motion.
The bulk of the book takes place during the exorcism and it is suspenseful indeed!  Riley takes this ritual very seriously and has her sidekicks thinking it's a fine idea to exorcise the demons out of Brooklyn. Let me just say these scenes are not for the faint of heart, okay? The book comes with a warning for a reason!
This book reads like a psychological thriller- you are constantly wondering whom to trust, and even the narrator is a little questionable. And as you are reading you feel claustrophobic and edgy like you are trapped in that house with the girls. It's a book that on the one hand I couldn't stop reading to see how it would play out, but on the other I was repulsed and wanted it to end already. Danielle Vega writes a hell of a scary book!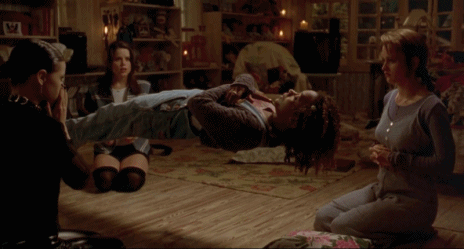 For such a creepy read, I made it even scarier by listening to the audiobook. It was making me jump out of my skin! Amy Rubinate reads The Merciless, and I haven't heard her like this before. She ramps up the tension with her performance and makes the horrors of the book more intense. If you can listen to this one without looking over your shoulder you're made of stronger stuff than I.
Check out a sample of The Merciless audio:
This book is one spooky, chilling ride that is a fun change of pace from the usual beach reads. I don't know if hardcore horror fans would find it as scary as I did, but if you're into dark thrillers keep this one in mind.
Read The Merciless if you like: Pretty Little Liars, The Craft, Carrie, and YA Horror
Related Posts