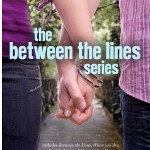 Between the Lines: The Complete Series
by
Tammara Webber
Series:
Between the Lines
Published by
Tammara Webber
on December 23rd 2014
Genres:
Coming of Age
,
Fiction
,
Love & Romance
,
New Adult
,
Romance
,
Young Adult
Pages:
1074
Format:
eBook
Source:
Purchase
Goodreads
Also by this author:
Easy
,
Breakable
,
Sweet
This digital set includes the complete four-book series: Between the Lines, Where You Are, Good For You, and Here Without You by Tammara Webber, author of NYT bestsellers Easy and Breakable

A handful of Hollywood's hottest young celebs are on location in Austin:

REID Alexander ~ the golden boy who always gets what he wants
EMMA Pierce ~ the aspiring star who dreams of a regular-girl life she's never had
GRAHAM Douglas ~ the enigmatic indie heartthrob
BROOKE Cameron ~ the literal poster girl for exterior perfection... and Reid's ex

What happens when the drama won't stay in the film?
I am a big fan of Tammara Webber's Contours of the Heart series, so why did it take me so long to read her Between the Lines series?! I remedied that situation while on vacation last week and binge- read the entire 4-book series! These books are great escape reads and I devoured them in every possible spare moment.
What's it about?
The Between the Lines series is about a group of actors and their romantic and personal entanglements:
Reid Alexander is a hotshot movie star who is used to getting his way, and he has his eyes set on Emma. If there were ever a bad boy in need of redemption, it's Reid.
Emma Pierce just got her big break as an actress- starring with Reid in a modern day version of Pride and Prejudice ("School Pride"). Their onscreen chemistry is off the charts, though she has her doubts if he is boyfriend material.
Graham Douglas is the indie movie actor who is the down to earth type. He's good friends with Brooke and a running partner to Emma. He seems to have an interest in Emma, but why is Brooke always coming out of his hotel room?
Brooke Cameron is the TV star / mean girl with something to prove. She and Reid share a past and a devious side.
Quick thoughts on each book:
Between the Lines – This book is in the POV of Emma and Reid. Reid is the villain you love to hate, and it's an interesting choice having his POV featured rather than Graham's because he is such a polarizing character. The first book introduces all the players and hints at the drama to come. #TeamGraham
Where You Are – In this book the series hits its stride, and we get more insight into all 4 characters with alternating POV. Brooke and Reid put their scheming heads together like Gossip Girls' Blair and Chuck and cause all kinds of trouble for Emma and Graham. It's movie promo time and once again Emma and Reid are side-by-side to play up their fauxmance.
Good For You – Reid's story takes center stage when his partying lifestyle gets out of control. Can this bad boy be saved? A new character is introduced- do-gooder Dori.
Here Without You – All the loose threads are tied up in the fourth and final book. Reid, Dori, Brooke, and River share alternating pov in this book about redemption, love, and second chances.
You will enjoy the Between the Lines series if:
You like Hollywood love stories, and "normal" people/celebrity relationships.
You like New Adult / Mature YA books
You like some angst in your stories- nothing comes easy for these characters.
You like Tammara Webber's Contours of the Heart series. These books are a departure and read a little younger but are still addictive reads.
All four books are available individually or in a 4-book digital bundle. I grabbed the digital bundle for $7.99, which is half the price of buying the books separately.
A note on the audiobooks:
I tried to listen to these first in audiobook form but the narration wasn't really working for me, so I switched to print. There are lots of good reviews for the audiobooks though so listen to a sample if you are an audiobook fan.
Overall, I was sad to say goodbye to this series. The character development was top notch and the books were all really engaging reads. I actually jumped into another book by this author afterward but that's a review for another day.
Related Posts