I've been a fan of Katie Kacvinsky's books ever since I started blogging, and I think her book Awaken was one of my first review books ever, so I was thrilled to get the chance to do an interview with her. First Comes Love is Katie's first foray into Contemporary, and is an accidental New Adult book. NA has been getting some mixed press, but I personally think First Comes Love is a fresh take on the genre, with its look at college-age characters dealing with the messiness of their lives and relationships.
First Comes Love is getting a new fancy cover treatment with the paperback release (May 7), and to celebrate Katie and I chatted a little about her books, New Adult, technology, travel, and more.
After checking out what Katie has to say, make sure to enter the international giveaway for a chance to win a paperback copy of First Comes Love and Second Chance!
Thanks for dropping by today, Katie and answering some questions about your books. Congrats on the paperback release of First Comes Love!
First Comes Love first came out almost a year ago when the New Adult category was just taking off. Did you know you were writing for this new hot category? And given that many New Adult titles start out as self-published did you encounter any push back about the characters ages from your publisher?
No, I didn't even know New Adult was a genre until people started categorizing First Comes Love as New Adult. Now it's this entirely new wave of fiction, which is exciting. I did have some challenges publishing First Comes Love. My publishers told me my characters were too old, so it took some convincing and stubbornness on my end to keep them out of high school.
Glad you stuck with your strategy. I think it makes sense that YA readers would be interested in seeing books that show the transition to college. Speaking of New Adult, would you like to weigh in on this category? Is it an age group you want to continue to write for? Have any favorite NA books?
I've only read a few, and none that stood out to me. So, I'll take some suggestions. I'm interested to see where this genre goes; it definitely opens up so many story opportunities. I would consider writing NA down the road.
(New Adult fans- have any recs for Katie? I always think Colleen Hoover's books are a good place to start.)
The First Comes Love paperback has an all-new shiny and colorful look that gives off a whole new vibe. Do you feel the new cover represents the book better? Personally I love it and think the cactus heart is a great fit.
Oh, man, I am so in love with this cover. It's freaking perfect. The cactus represents Gray so well, and the bright colors represent Dylan and the hot summer setting. Love. The hardcover is definitely more steamy, but I'm not a fan of steamy covers. I know, I'm weird.
I didn't even think of the cactus as Gray, and the color as Dylan – I like that!
Dylan in First Comes Love is an unattainable, freethinking, almost manic pixie dream girl type, while her love interest Gray is more guarded and sensible. Which character did you prefer to write? Do you have a favorite Gray or Dylan scene?
Gray and Dylan are very ying/yang so it's fun to write both of their characters. I enjoy writing Dylan the most. She puts me in such a good mood! As for a favorite scene…I loved writing the sex scenes from the male POV. Too funny.
LOL… hadn't considered the comedic aspect of writing sex scenes from the male POV. Dylan is such a free spirit- I can see how she'd put you in a good mood.
Let's play casting director – who would play Gray and Dylan in the film version?
Yikes, I'm terrible at this. For Dylan I would say Kirsten Dunst, or Zooey Deschanel but they're already a little too old. For Gray—no idea. It would probably have to be an unknown. I would try to cast a college baseball player.
You have another trilogy, the Awaken series, in the dystopian category. Do you prefer writing dystopia or contemporary books?
If I had to choose one genre and stick to it, it would be contemporary. That's my favorite genre to read.
Since I'm a fan of the Awaken series as well, I notice a few similarities between the two. One is the idea of getting unplugged- in First Comes Love Dylan doesn't own a cell phone for instance. And in the Awaken series, there's a rebellion that wants to bring back a simpler life that's not so reliant on technology. Is that a message you want to get out to your readers? Do you prefer to read books in print or on an e-reader?
I only read paper books. I will never own an ereader. Books are art to me. I like to touch them, I like to look at their covers. It's part of the reading experience. It's hard because I have a lot of author friends who only publish ebooks and I keep bugging them to make a print version available!
As for messages about technology, I didn't exactly mean to do that in First Comes Love. I just liked the idea of Dylan not owning a cell phone. I thought it made her more mysterious.
I did feel uncomfortable reading Awaken on an e-reader considering the message of the book!
One thing I like a lot in your books is that the romance is something your characters have to fight for. In that sense, I like how you ended First Comes Love. But, at the same time I'm glad you decided to continue Gray and Dylan's story. Do you prefer writing/reading books that take a more realistic and messy look at romance?
Yes, I'm definitely more of a fan of the slow-burn romances. I moved around a lot between the ages of 17 and 23. My relationships always ended because of timing issues and I realized that it's easy to fall in love with people. Making it last is the challenge.
Do you like to travel like the characters in your books? As an LA native, I liked the LA scenes in First Comes Love. Did you draw on personal experience when writing your travel scenes?
Yes, traveling is my writing inspiration. I owe all of my story ideas to traveling. I lived in LA for one year, two months and fourteen days (who's counting?) and it's still my favorite city in the world. It was so much fun to capture all of my favorite places in First Comes Love.
Can you give us any hints about the last book in Gray and Dylan's trilogy?
It begins in Omaha, Nebraska and ends in Los Angeles.  Lots of drama in between!
And I have to ask- any news to share on the final Awaken series book?
I have a draft and a title, now I'm waiting on an offer from Houghton Mifflin. They haven't made me an offer yet (sad eyes).  Hopefully I'll have some exciting news soon. My goal is to have a pub date within the next year.
I'm noticing readers searching my blog to find out about the next Awaken book, so hopefully we'll get some good news soon.
Thanks for stopping by today, Katie, with the inside scoop on your books!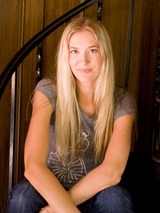 You can connect with Katie on her blog, twitter, facebook or goodreads.
First Comes Love is available in paperback May 7. You can order a signed copy of the book through Katie's local Indie Grass Roots Books and Music. Email the store for info to request a personalized copy of any of Katie's books by contacting groots@peak.org. It's also available at Amazon and Barnes & Noble.
The giveaway has ended:

Congrats to Kathy won won paperback copies of First Comes Love and Second Chance!
Let me know in the comments what you think about the new cover, any New Adult recs, or if you prefer reading e-books or print!
Look for my review of First Comes Love and Second Chance next week. Read more about the book below:
"The perfect love story to kick-start your summer reading."–Seventeen.com

Like his name, Gray is dark and stormy. Dylan, a girl who is seemingly unable to settle down, is the exact opposite: full of light and life. On the outside, they seem like an unlikely couple. But looks can be deceiving, and besides, opposites attract. What starts as friendship turns into admiration, respect, and caring, until finally these two lone souls find that they are truly in love with each other. But staying in love is never as easy as falling in love. If Dylan and Gray want their love to last, they're going to have to work at it . . . (Source: goodreads)
Related Posts