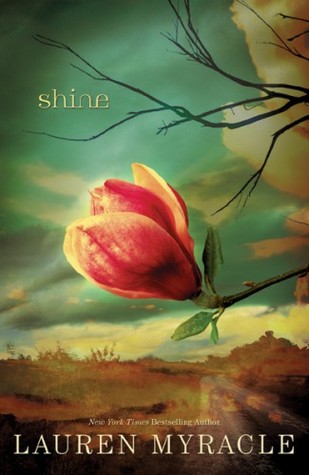 Book: Shine by Lauren Myracle
Published by: Amulet Books, May 1 2011
Genre: Young Adult
Format/pages: Hardcover 376 pages
Format read/Source: eGalley via NetGalley
Date read: March 25 2011
Rating: 4 / 5 Stars
Synopsis from Author's website:
When her best guy friend falls victim to a vicious hate crime, sixteen-year-old Cat sets out to discover who in her small town did it. Richly atmospheric, this daring mystery mines the secrets of a tightly knit Southern community and examines the strength of will it takes to go against everyone you know in the name of justice.

Against a backdrop of poverty, clannishness, drugs, and intolerance, Myracle has crafted a harrowing coming-of-age tale couched in a deeply intelligent mystery. Smart, fearless, and compassionate, this is an unforgettable work from a beloved author.
My Thoughts:
Shine is the first book I have read by Lauren Myracle, who has authored many young adult books. It is a contemporary realistic story that is also a who-done-it mystery. I was wary at first to read this due to the dark nature of the story. In fact it took me awhile to get past the beginning of the book that describes the disturbing details of the attack.  I'm glad I stuck with it, though. Shine is an engrossing book with compelling characters and a rich and satisfying story.
The main character of the book is Cat. She used to be childhood best friends with Patrick, who happens to be gay. They have a falling out after Cat goes through a traumatic event. She withdraws from everyone, including her oldest friend. When Patrick is viciously attacked in a hate crime, Cat decides she needs to take action and conduct her own crime investigation. Guilt leads Cat to interview friends from Patrick's social circle to find clues to solve the crime. The stakes are high for Cat to succeed since the local police have not come up with anything.
The backdrop of the story is a small-impoverished town in the South called Black Creek, which is plagued with meth users and drug dealers. Cat has an alcoholic father nearby, but their aunt raises her and her brother. Cat has been isolated from her peers for a long time, so it takes some persuasion to get her former friends to open up to her about the events that led up to his attack. All of the characters interviewed are realistic with a raw quality. The awkward and complex relationships Cat shares with them come through completely. Interspersed with the interviews are flashbacks about Patrick and Cat's friendship. The mystery takes Cat to unexpected places as she tries to solve the murder.
Cat's investigation takes her on a healing journey as she faces her fears and the skeletons in her closet. Cat is a likeable character that has some personal obstacles to overcome. Her story is empowering, and she is someone I think many readers may be able to relate to.
Shine is a powerful and haunting story that I think fans of contemporary, realistic young adult stories will enjoy. I was completely immersed in the story and had a hard time putting it down. The story is paced well and builds to a suspenseful conclusion. Shine is a book I won't soon forget. I look forward to reading more of Lauren Myracle's books.
For more information:
Amazon | Goodreads | Lauren Myracle's website

Related Posts