Mailbox Monday is a weekly event where we share our latest book arrivals. Join in to share your book loot and discover some new book blogs. Mailbox Monday is on tour, and you can link up at Rose City Reader this month. Mailbox Monday is looking for a new home for 2014. Look for an announcement and the new host/touring schedule soon.
Happy December! Hope everyone had a nice holiday/long weekend/week. I cooked Thanksgiving dinner, which was a lot of work, but came out really well I think. And I got to listen to audiobooks while I cooked so that was a bonus.
Here are the books I received over the last two weeks – I'm just going to list the Cybils review books because that is where my reading is concentrated right now. So, if my blog ever goes quiet I am probably trying to catch up on these books!
Review books received 2 weeks ago: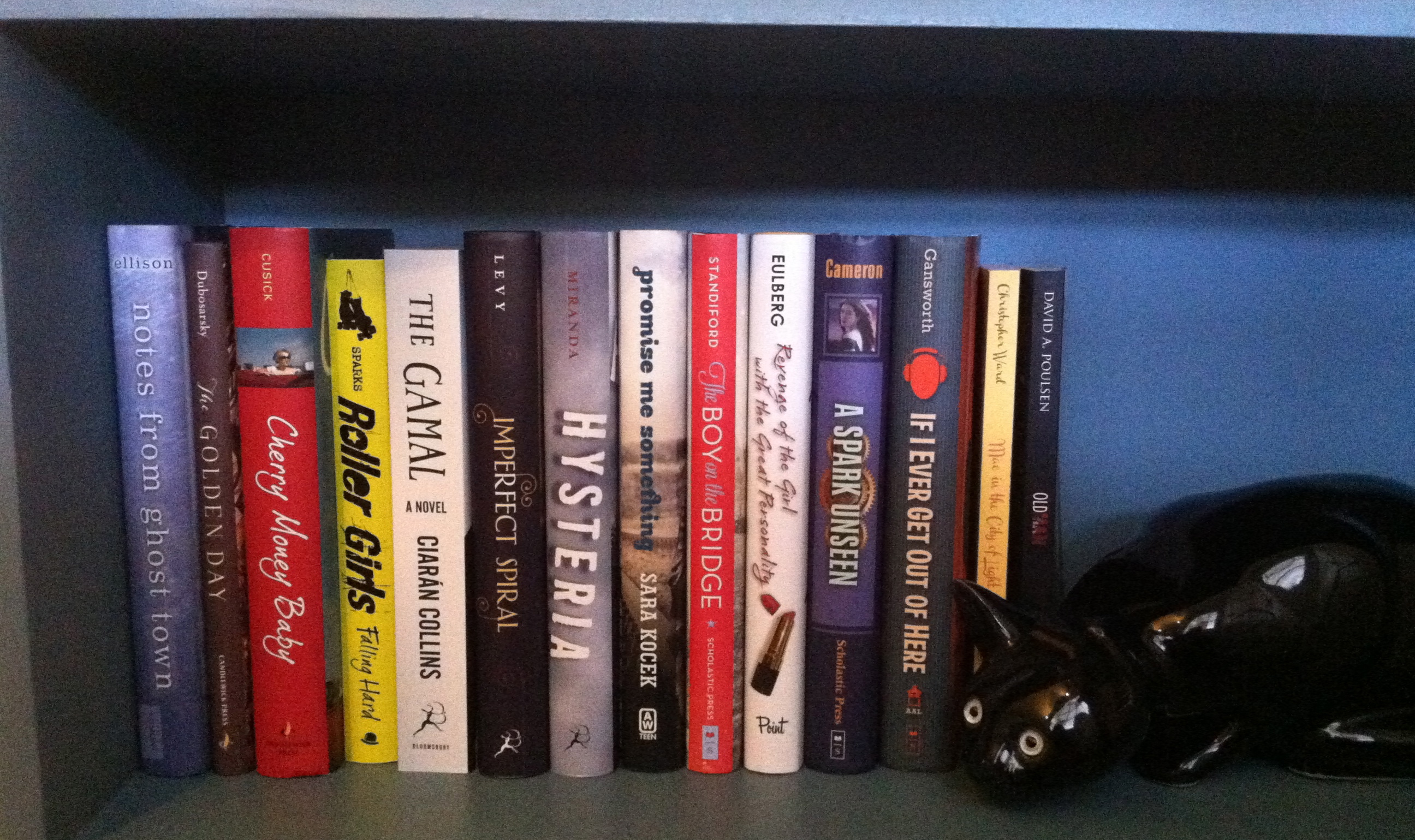 Notes from Ghost Town by Kate Ellison  – A murder mystery with a touch of paranormal.

The Golden Day by Ursula Dubosarsky  – Historical mystery thriller set in Australia.
Cherry Money Baby by John M. Cusick – I just read this one, and the title pretty much sums it up! The main character, Cherry, saves a Hollywood star from choking and gets some fame of her own.

Falling Hard (Roller Girls #1) by Megan Sparks – Roller derby!
The Gamal by Ciarán Collins – Irish novel about Charlie, aka The Gamal. Charlie writes about a traumatic event at the urging of his psychiatrist.
Imperfect Spiral by Debbie Levy – Danielle babysits a 5-year old who gets struck by a car.
Hysteria by Megan Miranda – A psychological thriller about a girl who kills her boyfriend, and then becomes a suspect in another killing when a classmate turns up dead.
Promise Me Something by Sara Kocek – Reyna is starting high school as the new girl and becomes friendly with the school outcast, Olive. Friendship, grief, bullying and sexual identity issues are explored.
The Boy on the Bridge by Natalie Standiford – Set in 1982 Leningrad, American student Laura meets Russian artist Alexei and they explore Russia in secret.
Revenge of the Girl with the Great Personality by Elizabeth Eulberg – An average girl is overshadowed by her pageant contestant 7-year old younger sister. She gives herself a makeover so she can be known for more than just her great personality.
A Spark Unseen by Sharon Cameron – Steampunk sequel to The Dark Unwinding.
If I Ever Get Out of Here by Eric Gansworth – Set in the '70s on the Tuscarora Indian reservation- this is a book about male friendship, music, cultural identity, and bullying. Recommended! (I'm behind on reviews but I'll get there)
Mac in the City of Light by Christopher Ward –  14-year-old Mackenzie (Mac) goes on a school trip to Paris and meets her dad's old musician friend, now a cab driver. She explores the Paris underground with the cabbie crew.
Old Man by David A. Poulsen – Nate's estranged father turns up and they go on a roadtrip to reconnect.
Review books received last week: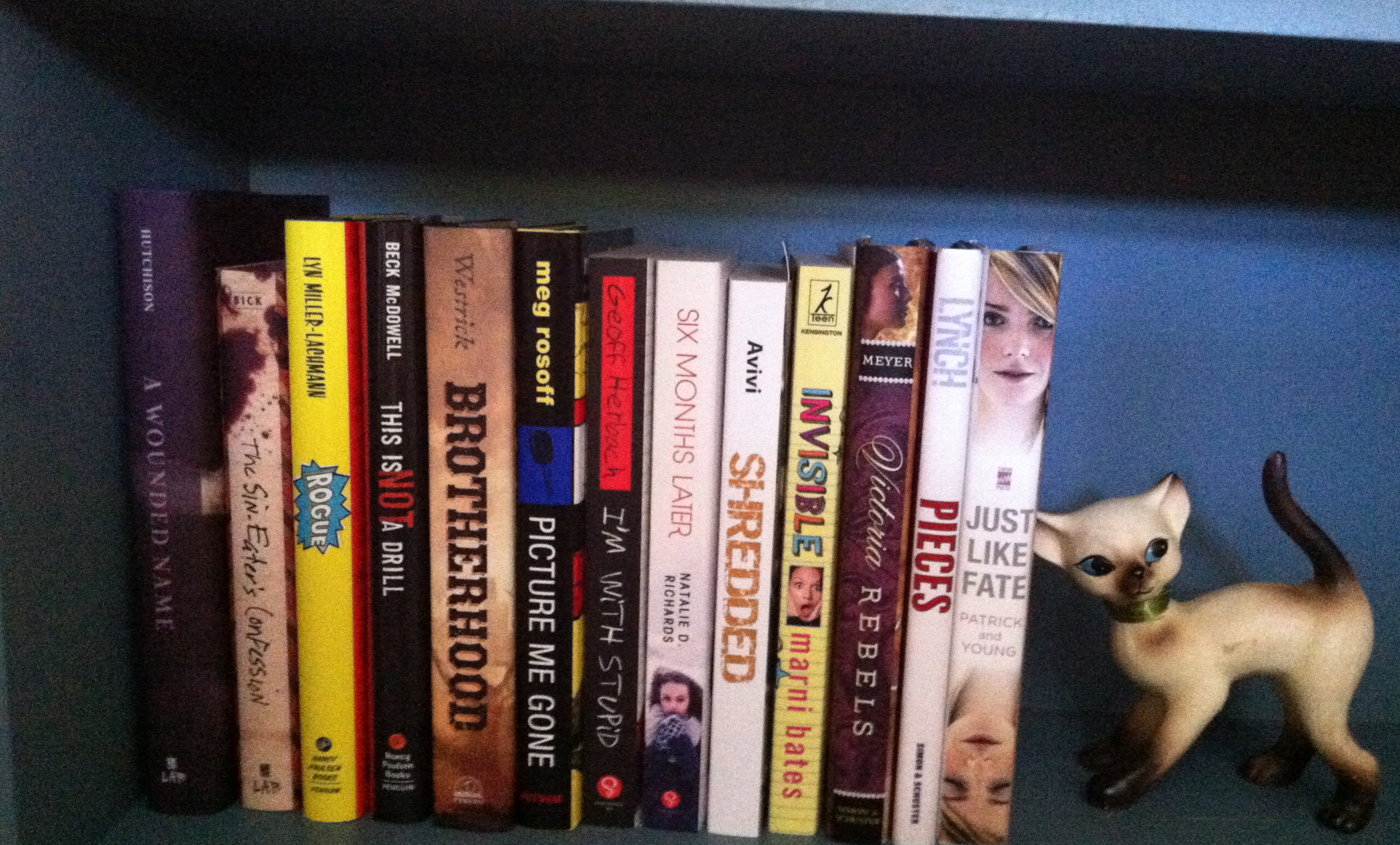 A Wounded Name by Dot Hutchison – A modern retelling of Hamlet
The Sin-Eater's Confession by Ilsa J. Bick – This book sounds pretty gruesome, and the book cover is all blood-stained too. Ben is a soldier who has survivor's guilt after the death of his friend.
Rogue by Lyn Miller-Lachman – Kiara has Asperger's Syndrome and has a hard time making friends. She wishes she could be more like her X-Men hero, Rogue, and tries to find her own super power.
This is Not a Drill by Beck McDowell – Two teens tutor a first grade class, when the class is held hostage by a gunman.
Brotherhood by A.B. Westrick – Set in post-Civil War Virginia, Brotherhood tells the story of a town adjusting to their new roles and relationships.
Picture Me Gone by Meg Rosoff – Mila's father's friend goes missing, and solving the mystery brings more revelations.
I'm with Stupid by Geoff Herbach – Book three in the Stupid Fast trilogy, a sports themed coming of age.
Six Months Later by Natalie Richards – A mystery about a girl who falls asleep in class and wakes up much later with no memory of the past six months. Now she's popular and on the college track- how did she get there?
Shredded by Karen Avivi – Josie is training for the BMX Freestyle bike event, and the book looks at feminism, sexism, and friendship.
Invisible by Marni Bates – Book two in the Smith High series.
Victoria Rebels by Carolyn Meyer – Historical fiction about the life of Queen Victoria.
Pieces by Chris Lynch – Eric's brother Duane dies and Eric is left to put the pieces back together.
Just Like Fate by Cat Patrick – A Sliding Doors kind of book about a girl who's decision splits her fate into two paths.
Thank you so much to the publishers and authors that sent these books for review. I have a stack of them I'm working through right now. Which books sound good to you?
Oh, and hey, Monday, Dec. 2 is the last day to enter the Book Thief Prize Pack giveaway (US only.) You could win a copy of The Book Thief & a $25 Visa gift card.

Have a good week!
Related Posts