Author Lissa Price's follow up to Starters hits shelves in just a few days! The duology concludes with Enders (or does it?) and Lissa Price is here today to tell us more about it!
Thanks for stopping by, Lissa, to answer a few questions about your newest book!
How was your writing process different for Enders? Any unexpected challenges or surprises?
LP: Enders was the first time I found myself writing a sequel. I really felt the weight of the obligation to satisfy the readers who loved Starters. It was so different from Starters, which I wrote in my room, not sure if any publisher would buy it or if anyone other than my friends would read. When I wrote Enders, I had a lot of voices in my head and they had questions. Could I continue the story with Enders and still surprise the reader, knowing they would be looking for that?
But in the end, you have to trust the process and listen to the characters and the heart of the story. I was very happy with the result and early reactions confirmed this. Some fans say they like Enders more than Starters.
Considering that your inspiration for Starters came from the flu vaccine shortage, I always think of Starters when I get a flu shot. Has writing this series made you more skeptical about vaccines?
LP: That makes me smile. I like hearing that you made that association. Actually, my feelings about various vaccines in our real world have little to do with the device I used in the story. I'm not trying to influence people either way regarding vaccinations. What I don't like is how vaccines have become packaged so there's no choice but to get say three vaccines in one shot. A few years ago, you could just get one. I wish we still had that option.
What was your favorite scene or line to write in Enders?
LP: I have several. One that comes to mind — there's a character, a guy we'll refer to as X so not to give anything away. An Ender has X beaten by two men and shows him to Callie. They're separated by a large glass wall. X rests his palm on the glass and Callie places hers there to meet his, even though they cannot really touch (this is even more meaningful when you read the book). She's been shown X because the Ender wants her to do something for him. At that moment, Callie realizes how much she cares about X and she agrees to do whatever it takes to make them stop the beating. I like the levels of emotion and the turn in that scene.
Is Enders really the end? What's next for you?
LP: Definitely not the end. I'm currently working on a new series that I'm very excited about. It will be another YA futuristic thriller, an entirely different world from Starters/Enders. And I do have some countries where Enders was published early who already want another in the Starters series. So it is possible that story will continue on.
Considering that Enders hits shelves early in the New Year, what should Callie's New Year's resolution be?
LP: Callie's New Year resolution is to cut back on the SuperTruffles!
Happy Holidays!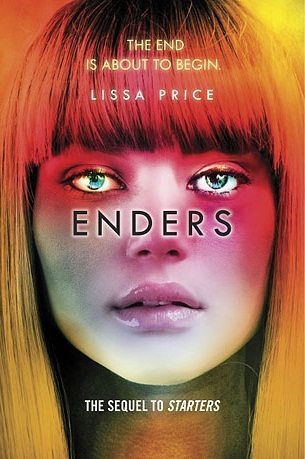 About Enders:
With the Prime Destinations body bank destroyed, Callie no longer has to rent herself out to creepy Enders. But Enders can still get inside her mind and make her do things she doesn't want to do. Like hurt someone she loves. Having the chip removed could save Callie's life – but it could also silence the voice in her head that might belong to her father. Callie has flashes of her ex-renter Helena's memories, too …and the Old Man is back, filling her with fear. Who is real and who is masquerading in a teen body?

This is the thrilling sequel to "Starters".
Look for Enders on January 7th:
Goodreads * Amazon * B&N * IndieBound * Book Depository
Oh and hey if you haven't read Starters yet, you can snag the e-book for just $2.99! Amazon * B&N
Enders Pre-Order Contest ends January 6th: Details here
Visit Lissa Price online:
Website * Twitter * Facebook * Goodreads * Tumblr
Related Posts