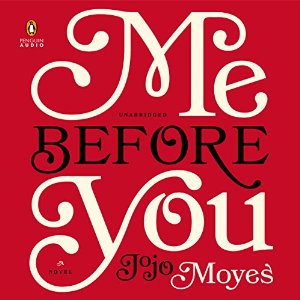 Me Before You
by
Jojo Moyes
Narrator:
Susan Lyons
,
Anna Bentink
,
Steven Crossley
,
Alex Tregear
,
Andrew Wincott
,
Owen Lindsay
Series:
Me Before You #1
Published by
Penguin Audio
on July 30th 2013
Genres:
Contemporary
,
Romance
Format:
Audiobook
Length:
14 hrs. 40 mins.
Source:
Publisher
Goodreads
Also by this author:
After You
Lou Clark knows lots of things. She knows how many footsteps there are between the bus stop and home. She knows she likes working in The Buttered Bun tea shop and she knows she might not love her boyfriend Patrick.
What Lou doesn't know is she's about to lose her job or that knowing what's coming is what keeps her sane.
Will Traynor knows his motorcycle accident took away his desire to live. He knows everything feels very small and rather joyless now and he knows exactly how he's going to put a stop to that.
What Will doesn't know is that Lou is about to burst into his world in a riot of colour. And neither of them knows they're going to change the other for all time.
Every once in a while comes a great crossover book that everyone loves, and Me Before You is one of those books that transcends genre. I see my YA friends on Goodreads love it, it's a frequent book club pick, and even Oprah says it's "to be devoured like candy, between tears."  Ah yes, the tears.  Me Before You is listed on Goodreads under "Books that had me bawling my eyes out" (it's number 5) so you obviously have to be in a certain mood to read a book like that, and I've owned this audiobook for seven months before playing it.  I recently received a review copy from Penguin and thought that before giving it away to one of you I better check it out for myself finally.
I'm probably one of the last people to have read Me Before You, but just in case you haven't here are some reasons to give it a try:
The Characters  – Louisa (aka Lou/Clark) and Will are two people who would not have ever met except under these circumstances. Before his accident left him a quadriplegic, Will was a successful businessman, traveled the world, loved extreme sports, and was a lady killer type. Lou lives at home, worked at a café, and has a long-term boyfriend. Lou loses her job and doesn't know anything about being a home caregiver but gets the job of looking after Will regardless. Will now lives at home with his parents and is a terrible patient, and Lou's biggest challenge is making Will want to live.
Class distinctions – Will and Lou live in a small town in England with a castle at the center dividing the haves and have-nots. With Lou's new caregiver job, she's earning a bigger salary than she ever has and is the primary breadwinner for her family. Will's life of "privilege" exposed him to literature, music, travel and films that Louisa never had a part of.  We see Louisa and Will open each other's minds to new experiences as they get to trust each other.
Lots to discuss, debate, and ponder – Will wants to die. The indignities of his post-accident life are spelled out quite clearly, and there's no chance he will recover. His family loves him and will do anything to make him change his mind. Louisa falls for the man he is now. Is it enough to make a difference in his life?
Heartbreak and Humor – Yes, this is a heavy subject matter- no sugar coating it. But, there are humorous moments and Lou brings lightness to Will's existence. Lou has quite an inventive and colorful wardrobe that brightens up Will's household. The pair brings out the best in each other and their light moments and banter keep the story from being too heavy. But yes there are still plenty of heart-wrenching moments as well that make this book unputdownable.
Smart, witty and eminently readable – I was surprised that this book is categorized as chick lit, and I think the term is too limiting. Why wouldn't a man enjoy this book? I think this story is relatable to everyone. The writing is engaging and smart, and the story is heart wrenching and realistic. Moyes writes about quality of life, love, family, relationships, infidelity, education, careers, and privilege and just a powerful story overall.
The audiobook – There are six narrators listed as readers for this title, but really Susan Lyons reads about 95% of the book. There are a few chapters where we get the point of view of Lou and Will's loved ones to provide some additional insight. I liked those small snippets into Will's mother or Lou's sister's mind, and I think it's appropriate to the story that we don't get Will's pov. Susan Lyons does an outstanding job with the narration and kept me riveted to story. Her character voices and pacing are spot-on. This is a good introductory audiobook to try if you aren't sold on them yet. I was hooked.
Audiobook giveaway courtesy of Penguin Audio.
Congrats to Veronica who won an audiobook of Me Before You!
Related Posts