So, remember a little while ago I shared the cover of Make It Count? Now we're looking at the students of Make It Count's Bowler University a little closer with fun character cards in a feature called Count the Cast! Let's lay the cards on the table, shall we?
When I saw these character cards, I was inspired to check out my review copy of Make it Count, and I'm about 30% in. It's cute so far! Make it Count is about Kat, a girl struggling in school with grades and concentration. It seems like she may have an undiagnosed learning disorder. Kat falls for her Statistics tutor; the pompadour wearing, bespectacled Alec, only he's her boyfriend's best friend. I'm not so thrilled that there's a boyfriend in this scenario, but the synopsis says, "secrets will be revealed" so I will wait and see what happens.
On deck are a couple of the side characters from Make It Count. First up is Cam, who is one of Kat's boyfriend's roommates. (The other is Alec of course) Cam picks up on Alec and Kat's attraction when he sees them on the dance floor.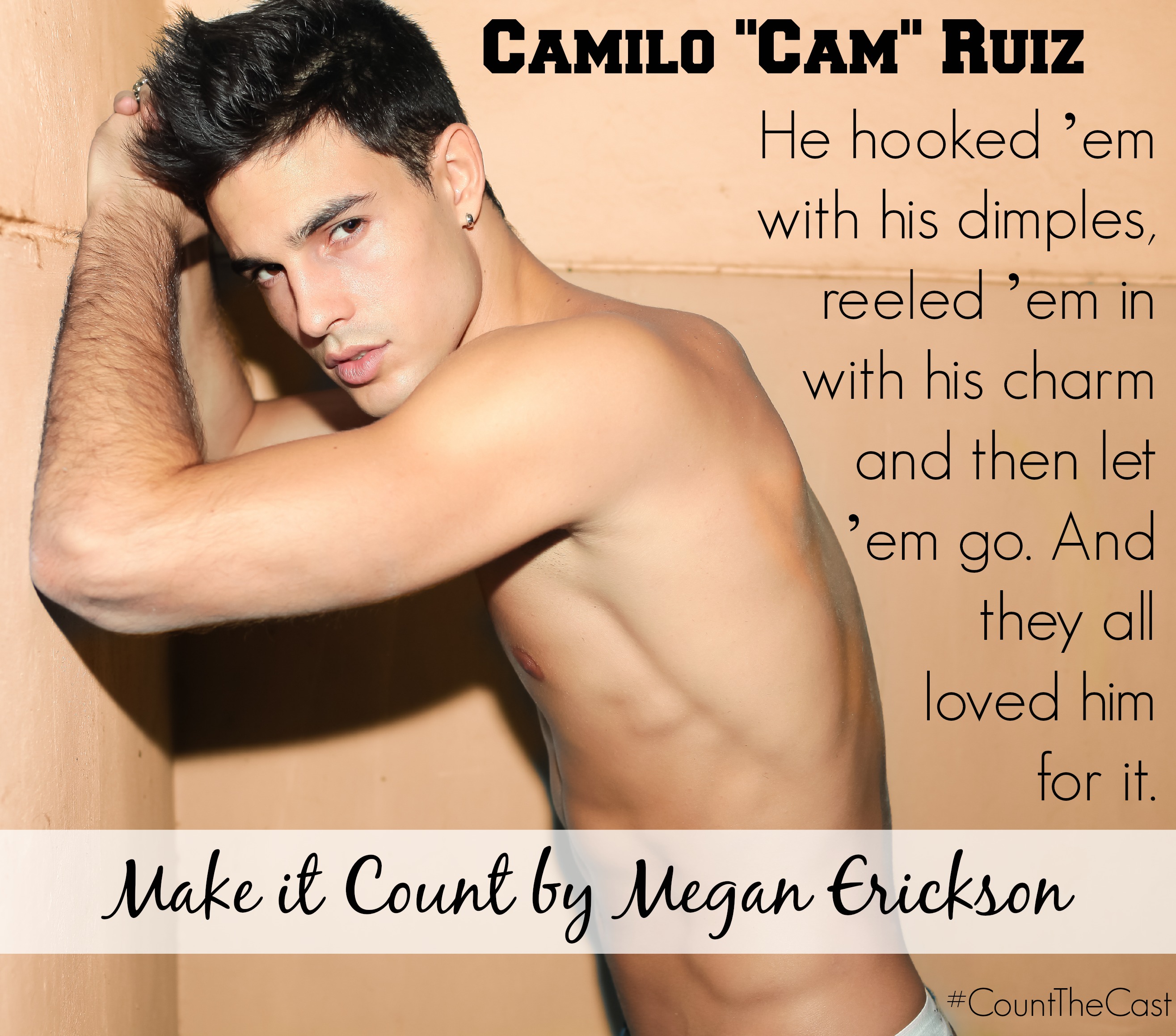 Camilo "Cam" Ruiz
The Player
We're in college. We have hot girls in tight jeans and cleavage-baring shirts at our fingertips. Don't tie yourself down.
Next up is Danica, Alec's friend and classmate. And in fact this card is the one that got me more intrigued about the story. Danica's not in the book a ton (so far) but her style and personality got my attention:
Danica Owens
The Chameleon
Monica says my idea of romance is 'Take off your shirt.'
More about Make It Count:
Kat Caruso wishes her brain had a return policy, or at least a complaint hot-line. The defective organ is constantly distracted, terrible at statistics, and absolutely flooded with inappropriate thoughts about her boyfriend's gorgeous best friend, Alec…who just so happens to be her brand new math tutor. Who knew nerd was so hot?

Kat usually goes through tutors like she does boyfriends—both always seem to bail when they realize how hopeless she is. It's safer for her heart to keep everyone at arm's reach. But Alec is always stepping just a little too close.

Alec Stone should not be fantasizing about Kat. She's adorable, unbelievably witty, and completely off limits. He'd never stab his best friend in the back…

But when secrets are revealed, the lines of loyalty are blurred. To make it count, Alec must learn messy human emotions can't be solved like a trigonometry function. And Kat has to trust Alec may be the first guy to want her for who she is, and not in spite of it. 

Preorder: Amazon US * Amazon UK * Barnes and Noble * iTunes * Google Play * Avon Romance  
Make It Count is on sale June 3rd!
Related Posts