The Movie Date is a weekly feature where we discuss movies that may appeal to the YA audience. Andrew is The Reading Date's resident movie critic and today we discuss HER, directed by Spike Jonze. I saw this movie without Andrew, but he had the idea to chat about it via text message as a nod to the technology obsessed nature of the film. Our transcript follows below. 

Andrew: So you and I are seldom as divided on a movie as we were on Spike Jonze's HER. I haven't seen it, but the trailer made me say "hell no!" You saw it with your sister and totally adored it!
Lucy: I know! I was a little uneasy about seeing it because the movie poster was off-putting to me and the trailer just looked weird. But I like Spike Jonze and quirky love stories and I'm glad I gave it a shot! It is a thought-provoking, unconventional (and technological) love story.
Andrew: So let's get into the plot. From the trailer it seems like Joaquin Phoenix is a rich guy who's either disturbed or depressed. He gets set up with a personalized "operating system" (I think they really mean interface or whatever) for his phone (and maybe computer?) that has Scarlett Johansson's voice. They seem to get very sexy and intimate. Meanwhile he has Amy Adams, looking kinda plain (for Amy Adams) with no makeup, sort of the "real girl" in his life. But JP seems more interested in his SJ Siri thing and comes out of his shell a little bit! So fill in the details of what I've missed!
Lucy: I don't think Joaquin Phoenix's "Theodore" is that rich per se but he does have a pretty swanky pad. He has an interesting office job where he is hired to write personalized love letters. His wife left him and he's lonely and tries out a couple online chat services and goes on a blind date without much success. He finds out about a new computer app (OS) that helps organize your life. That's how he meets "Samantha" (voiced by Scarlett Johansson.) Amy Adams plays a married college friend and she also has an OS (though not a romantic one), so she gets it. Samantha becomes the perfect woman for him (Theodore) and they try out the relationship thing- even going on double dates!
Andrew: OK that sounds pretty cute, that Amy Adams has an OS as well. I guess the big question is, ultimately, can you have a long lasting and fulfilling relationship with an artificial-intelligence construct that doesn't even have a physical form? I know you can't say, because that would kind of spoil the ending. Does it seem like Jonze is behind this kind of virtual-relationship idea or is he all too eager to show its limitations?
Lucy: Yeah the movie does make you think about all the technology in our lives and if this is where we're headed. Hmm I'm not sure but would guess that Spike Jonze is less enamored of virtual relationships. It is exciting that someone seems so tailor made for you and everything's great but like other relationships the honeymoon period ends.
Andrew: Ah. Enough said. Though I can see a person in real life getting some comfort from an artificial-intelligence construct, it seems like a hard thing to root for in a character in a rom-com – "why don't you find yourself a nice operating system and settle down?" I'm guessing, though, that there are many moments between Theodore and Samantha where you wonder if maybe she's a real person, working at a switchboard or whatever?
Lucy: It's easier for Theodore to imagine Samantha is real when they are chatting on the phone, but the lack of physical interaction or traditional dates does put a strain on the relationship. They do get inventive though! I don't think there's a question of Samantha being a real person, though she is an idealized love match in all ways but physical. She evolves over the course of the film and that creates some interesting challenges.
Andrew: Gotcha. Quick question about Amy Adams: how does she come into Theodore's life and what role does she play there (initially)—coworker, friend, confidante? How is Amy in the role? How are the other performances?
Lucy: Amy Adams plays Amy, an old college friend and aspiring filmmaker. She's sweet and supportive to Theodore and open to the OS relationship thing. After seeing Amy in American Hustle, this was a much less glamorous role, but she gives a solid performance. Also, Chris Pratt provides some comic relief as the receptionist in Theodore's office. Rooney Mara plays Theodore's estranged wife and she's icy and convincing in the role.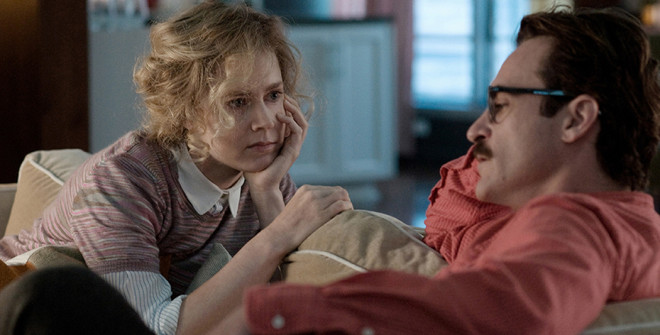 Andrew: Speaking of the actors —how is Joaquin Phoenix? Like Mara, he typically gives a film kind of a spooky edge. Tell me a little about the tone of the film and the world Jonze has created. Is it funny, futuristic, scary and ominous? How's the music?
Lucy: This film would not be as successful as it is without Joaquin Phoenix. And this is coming from someone who is leery of him in general. Considering he's playing off himself, or the voice of Samantha, he carries the weight of HER on his shoulders. But he totally pulls it off and I'd love to see him win acting awards for this. Additionally, Scarlett Johansson makes Samantha real, even though we only hear her voice. Kudos to them both.
The tone of the film is a little melancholy and quiet, with a dark cloud hanging over Theodore due to the end of his marriage. What's interesting is that there are signs that this movie is set in the future, from the odd fashions and futuristic technology, but it doesn't seem too far out. It's described as near-future. The music score is by Arcade Fire and is understated and fits the tone of the film. From the soundtrack, The Moon Song by Karen O  (audio clip below) captures the mood:
Andrew: From the trailer, that was my sense of the tone as well. Seems like they could've gone more comedic with it, but who am I to say? I've always felt like I knew where this film was going – the old "road trip" plot a la The Sure Thing: en route to finding the "perfect girl," you wind up falling in love with the "real girl." I know you can't say but that's what's always been in my head on this one. Do you think that fans of most romantic comedies would enjoy this, or is it too offbeat?
Lucy: I'll just say that this film does not go the predictable route. And yes absolutely rom-com fans should check out HER. It's offbeat in terms of romance but it's charming and sweet and relevant. There are definitely comedic moments as well. It's not a downbeat film.
It actually reminded me a little of 500 Days of Summer. Both films are set in LA and show a different LA than what you typically see in film. And like 500 Days of Summer, HER is somewhat bittersweet.
Something else that made an impression on us were the high-waisted pants that the guys wear in the future! The fashions were definitely distracting and unusual but clued you in that the story was set in a different time. The videogame scenes got some big laughs too! (Spike Jonze voices a foul-mouthed alien in a game Theodore plays)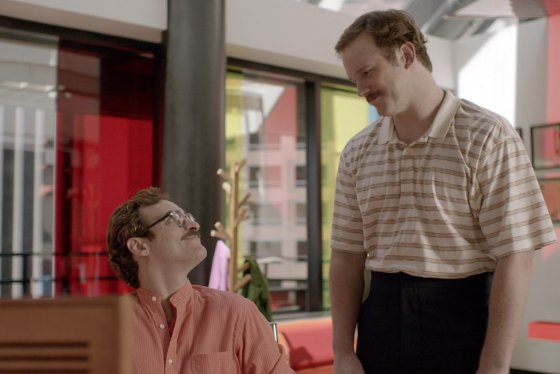 Andrew: Well, based on this, m'dear, I'll definitely give it a shot at some point—the sci-fi angle has me intrigued as do the social ramifications, and I'm always up for some good acting. Not sure about the pants, though! Thanks for the review via text chat, and see you in the real world (which is more than Theodore can say!).
Lucy: Haha my job is done.
HER is now playing and is rated R (for language and sexual content.) Find out more at the official website! My sister and I had a long conversation about the clothes in HER and she sent me a link about the HER tie-in clothing collection! (TIME magazine article) Maybe guys are ready for high-waisted pants after all!
Related Posts