The Movie Date is a weekly feature where we discuss movies that may appeal to YA readers. Andrew is The Reading Date's resident movie critic and this week he discusses How I Live Now, directed by Kevin MacDonald, based on the novel by Meg Rosoff.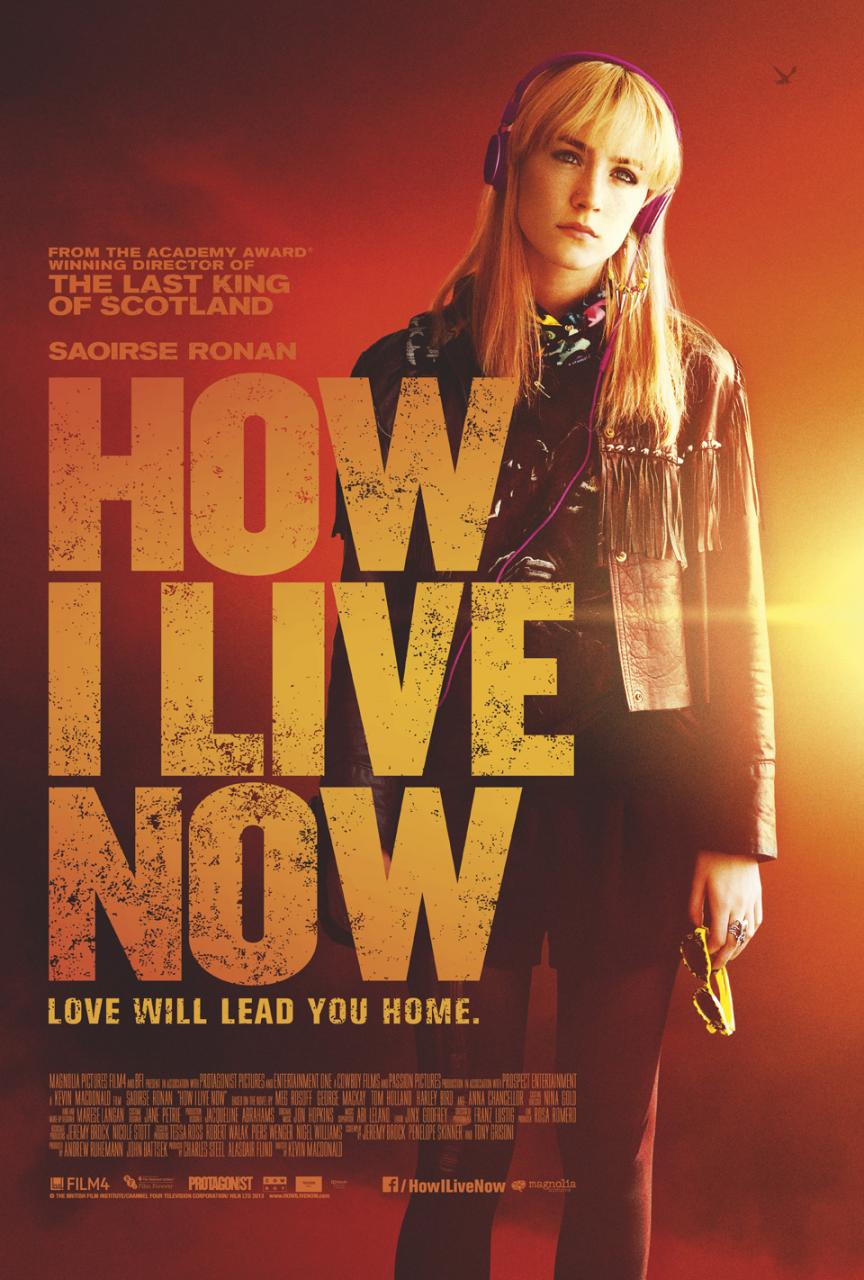 When a tough American teenager goes to live with cousins in the British countryside, a nearby nuclear attack forces them out of their farmhouse and on a quest to survive.
At the film's start young Daisy (Saoirse Ronan) is very much the city mouse visiting her country-mouse relatives; with her shiny headphones and bright urban clothes, it seems unlikely she'll ever fit into the peaceful rural routine. Rather than accepting their invitations to play, she'd rather stay home and give herself a pep talk full of self-loathing. Adding to the oddness of the situation is the apparent lack of any adults on the farm, leaving the kids to fend for themselves. Soon Daisy's aunt does show up; she's some sort of political strategist, overwhelmed with what seems to be a global political crisis. But in no time she's off to nearby London to catch a plane to Geneva, and we don't know if she ever gets there.
Because that afternoon there's a distant flash, a rumble, and a rain of ashes; from the TV the kids learn that a nuclear device triggered in London has killed thousands. Though the blast doesn't affect Daisy or her cousins directly, they sense their lives will change, and to avoid being captured and evicted (due to fallout), the kids hide out in the barn. The ensuing closeness causes Daisy to become enamored of her handsome older cousin Edmond, and the two become attached. But British troops find the family anyway, dragging them off to camps for their own protection as terrorist forces prowl the countryside. Before Edmond and his brother are taken to one camp and Daisy and her young cousin Piper to another, they hastily agree to meet back at the farmhouse as soon as possible.
After a brief spell at a work camp, the two girls are forced to make their way back home through the hostile countryside. On the way she keeps having strange dreams showing Edmond in deep distress. For both to survive, Daisy must summon reserves of courage and compassion she didn't know she had. Good thing those rather brutal pep talks have built up her inner strength so well.
I'm always a fan of films that show epic events through the eyes of people who barely glimpse them (for instance, the virtually unseen alien invasion in Shyamalan's Signs). Here we only see and understand as much as Daisy does; we don't really comprehend the reasons for the global crisis and don't see what's happened in London or anywhere else. All we know is that the family's farmhouse is a good place, and nothing can be right until everyone meets up there again. So the focus isn't on the global crisis, it's on Daisy's coming of age, in a setting in which no one should ever have to come of age.
Saoirse Ronan's a wonderful young actress fond of playing girls on the run; she also played a refugee in 2010's The Way Back, and in the next year's Hanna she was a fugitive teen assassin who refused to be captured. Here she gets a more mature character arc as she finds herself becoming a de-facto mom and a woman in love as well as a fleeing survivor. Director Kevin Macdonald has directed both political dramas and documentaries, and his gritty style is excellent for the material. As both an effective dystopian thriller and sensitive coming-of-age picture, this is likely to please both parties as a date night film, especially viewed on demand. It's a quality, very marketable film and I'm surprised it didn't get a bigger release. But I guess digital distribution is how we live now.
How I Live Now may be hard to find in theaters, but you can watch it On Demand like we did, or rent it from iTunes. How I Live Now is rated R and runs 101 min.
Related articles
Related Posts