The Movie Date is back with some summer movie suggestions! We are big fans of indie films at The Reading Date and prefer to check out under the radar films rather than the big blockbusters. The summer indie movie offerings for August include something for everyone whether you like zombies, comedy, music, YA adaptations, or romance.  And hey, if you missed our June movie picks or July movie picks you still may be able to catch those films in theaters or VOD.
Here are August's indie movie picks- take it away Andrew!
Movies to look out for this month:
WHAT IF 8-8
Daniel Radcliffe and Zoe Kazan as close friends who consider becoming more–except Zoe has a boyfriend already. Radcliffe's a talented actor who's been trying desperately to shake off the long shadow of his most magical film franchise, and I'll certainly allow him to grow up here (he was fine in the spookfest Woman in Black). Kazan is a brilliant young actress still waiting for her breakthrough; she was great in the clever if flawed Ruby Sparks, in which she plays an author's creation come to life. I see nothing too original about the story itself, but it's all in the execution, isn't it? (Note – don't confuse this with the identically-titled film also opening this month about a "psychiatrist who can't help himself"!)
LIFE AFTER BETH 8-15
After a young man's girlfriend (Aubrey Plaza) suddenly passes away, a twist of fate magically revives her—well, sorta. Apparently a tale of the walking undead, but let's not utter the Z-word just yet. Though this has promise—I can see the resurrected Plaza with that "what are you staring at?" look on her face—it'll have a long ways to go to beat out last year's sentimental and brilliant zom-com Warm Bodies.
THE TRIP TO ITALY 8-15 
In an apparent sequel to 2010's The Trip, Steve Coogan and Rob Brydon again play themselves touring the Continent in search of food and conversation. Michael Winterbottom has directed both of these; he also directed Coogan in 24 Hour Party People, one of my favorite rock 'n' roll movies of all time. Would love to see this—sounds like My Dinner with Andre with exotic scenery—but never saw the first one, so I feel like I have some catching up to do.
FRANK 8-15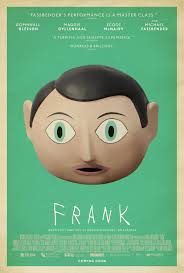 Speaking of rock movies, this is definitely one of the weirder music stories you'll see this or any year. Michael Fassbender plays a band leader who wears a giant paper-mache head that he never removes. He and his band members struggle with fame, each other's egos, and their own demons. Hopefully this is one of those films that starts out weird and ends up charming. Or maybe it will just stay weird.
THE ONE I LOVE 8-22
Mark Duplass (Safety Not Guaranteed, which also featured Plaza, above) and Elisabeth Moss (Mad Men) as a couple whose fading romance leads them to a weekend retreat where… something crazy happens, apparently. The New Zealand thriller series Top of the Lake showed me what a talented and versatile actress Elisabeth Moss truly is, and I'm eager to watch her in another big role. Duplass (also on The Mindy Project) is similarly loveable. I'm sure the mystery will be spoiled by the time this actually comes out, but it's definitely on my radar.
THE OLIVIA EXPERIMENT 8-22 
The 27-Year-Old Virgin? A coming-of-age story about a woman uncertain of her own sexual orientation—if she even has one—who sleeps with a friend's fella, at the friend's urging. Then all hell apparently breaks loose. I'm guessing this will be more charming and chaste than the too-raunchy The To-Do List (Lucy and the teen saw that and were fairly appalled), but this just sounds like a girl-meets-boy story to me. Still, I love the tagline—"A comedy about sexual (dis)orientation"—and if the subject matter is handled insightfully, this could hold some merit.
TWO NIGHT STAND 8-22 
If the director's name Max Nichols sounds naggingly familiar, it's because he's the son of Mike Nichols, who directed Hollywood comedies, thrillers, and dramas for forty years. In Max's directing debut, he tells the story of a tacky one night stand whose "walk of shame" is thwarted the next morning by a New York snowstorm. Trapped in a tiny apartment with nothing to do but chat, the nothing-in-common duo struggle to find some common ground. This sounds like a much more compact version of the "opposites attract" story Knocked Up, and if done right promises both charm and hilarity. (Lucy wants to see this since she is a fan of Miles Teller of The Spectacular Now & Divergent fame)
JAMIE MARKS IS DEAD 8-29 
Based on a book, a YA novel no less: Christopher Barzak's One for Sorrow. Young Marks is indeed dead, found murdered in the woods outside a small town. Yet his ghost haunts fifteen-year-old protagonist Adam, causing the boy to reflect on his own life, family, and hometown. He shares his thoughts with a girl named Gracie, who's also been seeing Marks' ghost. Though the focus here isn't on solving the boy's murder, this could be a less grim version of The Lovely Bones, perhaps, featuring a hero who's still living. If the reviews are good I'll give it a shot.
Have you made it out to see any indie films this summer? So far we have checked out Happy Christmas and They Came Together (both on VOD). One movie we will see this month for sure (though it is not an indie) is If I Stay (Aug. 22). Can't wait!
Let us know your summer movie picks!
Related Posts