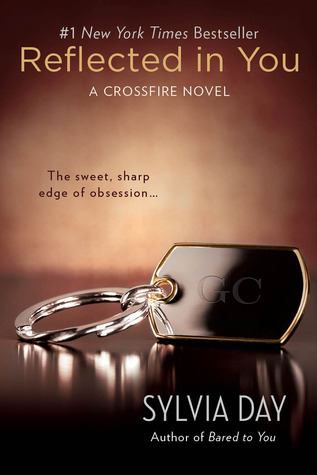 Book: Reflected in You (Crossfire #2) by Sylvia Day, Penguin/Berkley Trade, On Sale Now
Book Info: Romance/Erotica, received via book swap, 432 pages
Rating: 3.5 / 5 Stars
More Info:  Goodreads | Amazon | Audible
Reflected in You is the second book in the Crossfire trilogy by Sylvia Day, and it's not remotely YA, or even NA for that matter.  When this book came out recently, I saw it climbing up the bestseller charts and got curious about it. I saw it compared to Fifty Shades and I thought been there, done that. When I got the opportunity to review the book by book- swapping with Alyce though, I had to take a chance to see what all the fuss is about. I quickly devoured Bared to You to get up to speed on the series.  By the time I finished the first book, I was excited that the sequel was en route to me. These are fast, addictive reads about a very dysfunctional couple. Did they remind me of Fifty Shades? Yes, the billionaire love interest Gideon Cross reminded me of Christian Grey very much.  But the female protagonist Eva is something else altogether and I liked her a lot.
The set-up is that Eva Tramell relocates to NYC from San Diego with her best guy friend Cary. She is smart and independent, and has some sexual abuse baggage that weighs on her mind. She gets a job in advertising and meets the powerful and possessive Gideon Cross, owner of the Crossfire building where she works. He's also dealing with some childhood scars. They meet and have an instant powerful connection that quickly turns passionate. They negotiate to try to make a relationship work, though both parties are pretty damaged. Their personal demons get in the way, and it's clear they need to work on their personal growth to move forward.
In Reflected in You, Gideon and Eva confront the past, and we find out what happened to traumatize Gideon. It's satisfying in that a lot of the missing pieces of the puzzle are revealed in the sequel, and I was happy to see they realized therapy was in order. There is still a lot of work to do for our favorite turbulent couple; even so, I'm hoping they get their HEA.
I'm glad I didn't cheat and skip the first book, because I don't think the sequel works as well as a stand-alone. The story is all about the two characters coming together, and the introduction in Bared to You is important to the story. There are some side stories about the friends and family members in their lives that carry through the two books.
Gideon is a wild card in this book. He is very possessive, jealous, and controlling of Eva. Same as in Bared to You, but their growing pains cause even more problems. Both Gideon and Eva are strong personalities who push each other's buttons, and as usual the middle book of the trilogy is drama-riffic.  Their frequent break-ups will give you whiplash.
Since this is an erotica series there is plenty of steam for our couple. The chemistry between Gideon and Eva is undeniable, even though some of the scenes are a little over the top for me. This series does have other things to offer besides the sexual relationship though, like confronting your demons and working towards a healthy relationship.
This series is a natural follow-up for Fifty Shades fans, and for those wary of that phenomenon/Twilight baggage but who want to try out erotica. I'll definitely see this series through to its conclusion. The last book in the trilogy, Entwined with You, is due out in May.
Related Posts