The Movie Date is a weekly feature where we discuss movies that may appeal to YA readers. Andrew is The Reading Date's resident movie critic and this week he discusses Side Effects directed by Steven Soderbergh, and written by Scott Z. Burns.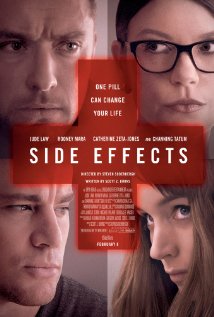 When a psychiatrist prescribes antidepressants to a woman suffering from anxiety, he learns too late that the drug's side effects include dangerous sleepwalking episodes.
The world of the mind is fascinating to me: the brain is such an unspeakably complex computer it's hard to comprehend. And psychotropic drugs are where science and spirit overlap. We know what these drugs do, for the most part, but no one can predict with accuracy how any medication will affect a given patient.
When her white-collar criminal husband (Channing Tatum) is released from prison, Emily (Rooney Mara, The Girl With The Dragon Tattoo) falls suddenly into despair and risks self-harm. Psychiatrist Jonathan Banks (Jude Law) is assigned to Emily's case and struggles to find the right medication for her. He tries her on Zoloft, which makes her nauseous and listless, unable to cope. Looking further into her case, he contacts Emily's prior shrink, Dr. Siebert (a bespectacled Catherine Zeta-Jones), who suggests he try the latest wonder drug, the (fictional) Ablixa. This does the trick for Emily, except the drug seems to cause sleepwalking episodes—including one that ends in a tragedy she has no memory of. Surely the pills are responsible, but will anyone believe her?
At this point the film shifts its focus to follow Dr. Banks, because the blame for prescribing this new drug too hastily falls on his shoulders. He fights to hang onto his medical practice, his family, and his credibility as he races to find out the truth about Emily's medical condition.
That's about all I can say without spoiling the considerable surprises to come in this tense and masterful film. Director Steven Soderbergh has claimed this will be his final picture, and it's an excellent note to go out on if that's true. Since he's covered so many genres in the past, we really don't know where he's going with this film: will it be a psychological thriller? A corporate conspiracy drama a la his Erin Brockovich? Or perhaps just a good old crime picture? Adding to the confusion is that we're never quite sure how much we trust the three leads—Emily, Banks, or Siebert (who remains interested in Emily's case)—any of whom could be innocent or deceitful. Even when you think you have this one figured out, I promise you there will still be some surprises before the credits roll.
Jude Law is on form in ethically conflicted mode and Zeta-Jones gives us her best beautiful, powerful female. But Rooney Mara is the real standout here as the haunted and victimized wife who finds her strength as the film evolves. I read that for the Dragon Tattoo movie, she chose to stay in character during the entire shoot—24/7, for months on end, nonstop—and I wouldn't be surprised if she did the same thing here, so committed is her performance.
Other than the aforementioned tragedy, the film is low on violence, but it's high on suspense. Even if you don't quite wind up where you thought you were going—Side Effects may include disorientation—I think you'll enjoy the ride.
Side Effects is now playing in wide release and is rated R. Running time: 106 minutes.
Related Posts