The Movie Date is a weekly feature where we discuss movies that may appeal to YA readers. Andrew is The Reading Date's resident movie critic and this week he shares his thoughts on the Oscars.

The Oscars are already upon us, and I'm stoked: it's been a banner year for films in general, and I'm eager to see the titans battle it out on the big stage Sunday night.
I can't give you bona fide Oscar picks for two reasons: one, I didn't see every nominated film and performance, so for me to speak authoritatively would be unfounded. Second, picks should reflect what you think will win, not which nominees are your favorites. All I'm really qualified to discuss is what I liked this year, out of the films I saw. So here goes, in likely presentation order so you can follow along throughout the evening. (I'm using Entertainment Weekly's Oscar picks to handicap the favorites.)
Best Supporting Actor – Only one I saw was Robert De Niro in Silver Linings Playbook, and I thought he did great; the complex OCD-dad role really roused him out of his mediocre-film slumbers. He's the pick to click, so let's go with that. (I always enjoy Tommy Lee Jones too, so won't be sad if he wins. Actually I love all five of these guys, so anything goes.)
Best Animated Feature – Again, the only one I saw was the favorite, Wreck-It Ralph. (I reviewed it here, in fact.) I heard good things about ParaNorman. Though I usually love Pixar and Burton, their films held no appeal for me at all this year (sorry).
Best Song – Love James Bond, love Adele, and this year's fusion of the two phenomena yielded one of the franchise's best theme songs ever. (And the fact it was issued on a vinyl 45 rpm single was very nice too.) I haven't heard a note of any of the other four. (Just learned Chasing Ice is a documentary about glaciers. Huh.)
Best Original Screenplay – OK, this gets us into the elephant in the room, Amour. Didn't see it, though I really liked Haneke's creepy, artsy film The White Ribbon. Have nothing but respect for it but not in the mood for a "feel-bad" movie at present, maybe later (when I'm the actors' age). All five nominated films look pretty brilliant, but for sheer creativity and magic I'll go with Moonrise Kingdom (also reviewed here).
Best Adapted Screenplay – Wow, Silver Linings Playbook (reviewed here) vs. Argo. Thought both were fantastic. Do I have to choose?
Best Supporting Actress – Anne Hathaway seems like a lady who'll grab a statue one year or another, and this is probably a good chance; she must have made an impact with her brief role in Les Miz. Only performance I saw was Jacki Weaver in Silver Linings Playbook; fine but nothing that had me swearing with amazement. (Check her out as the chillingly charming matriarch of a British gangster family in 2010's Animal Kingdom.)
Best Production Design – Only saw The Hobbit out of these five. Oddly, though I have no interest in seeing it, I'd go with Life of Pi for its incredible glossy seascapes and color palettes. (Why was the dazzling Moonrise Kingdom not nominated, though?)
Best Cinematography – Again, should probably go to frontrunner Life of Pi, though I'd like to see Skyfall win (always great to see a Bond film nominated).
Best Foreign Film – I usually try and see at least a couple of the nominees, but goose egg this year. So, fine. Haneke. Amour. Whatever. Years from now, I'll look back and cheer.
Best Actor – Daniel Day-Lewis, for sure, only because he was so awesome in There Will Be Blood and a couple Irish pictures for this time of year, My Left Foot and The Name of the Father. Bradley Cooper showed really good depth in Silver Linings Playbook, and I like the other guys too.
Best Actress – How could I go with anyone but the fearsome Jennifer Lawrence (especially as she's the clear favorite anyway)? Especially amazing is that she played a character older than her actual age, a real testament to her talent and confidence. Glad to see the excellent Jessica Chastain coming into prominence with a great role, too.
Best Director – Where's Ben Affleck, of course? Even with his fine track record in the director's chair, maybe Hollywood still sees him as an actor first. Out of the five guys here I guess I'd go with Spielberg,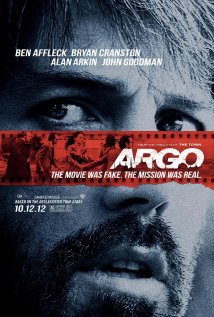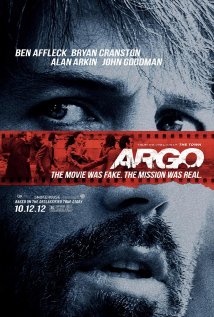 who probably made the most awesome Lincoln movie that could ever be made (though I didn't see it). Close second is David O. Russell for skillfully managing the tone in Silver Linings Playbook; could have been either a silly rom-com or a heavy mental-illness drama, but he created something wonderful that you didn't hate yourself after watching.
Best Picture – I'd had really high hopes for Zero Dark Thirty but after seeing it, I was a bit let down: ultimately it's the story of one person who is determined to cause the death of another, so it's pretty grim stuff. Out of the two real-life Middle East dramas, I really did prefer Argo (reviewed here). The true story is so far-fetched it's laughable, and Affleck wrings every possible drop of humor and thrills out of the material. The fact that it's a nearly gunless thriller, and is about saving lives rather than taking them, gets my nod too. Beasts of the Southern Wild (reviewed here) is a good picture but not the year's best. And a shout-out to Tarantino for making a film that manages to shock, thrill, and inform; looks like that I'll be seeing that one from the couch, though.
What are your favorites of the year? Stop back on Monday to share your favorite moments from the show.
Related Posts