The Movie Date is a weekly feature where we discuss movies that may appeal to the YA audience. Andrew is The Reading Date's resident movie critic and this week he discusses The Hobbit: An Unexpected Journey, directed by Peter Jackson.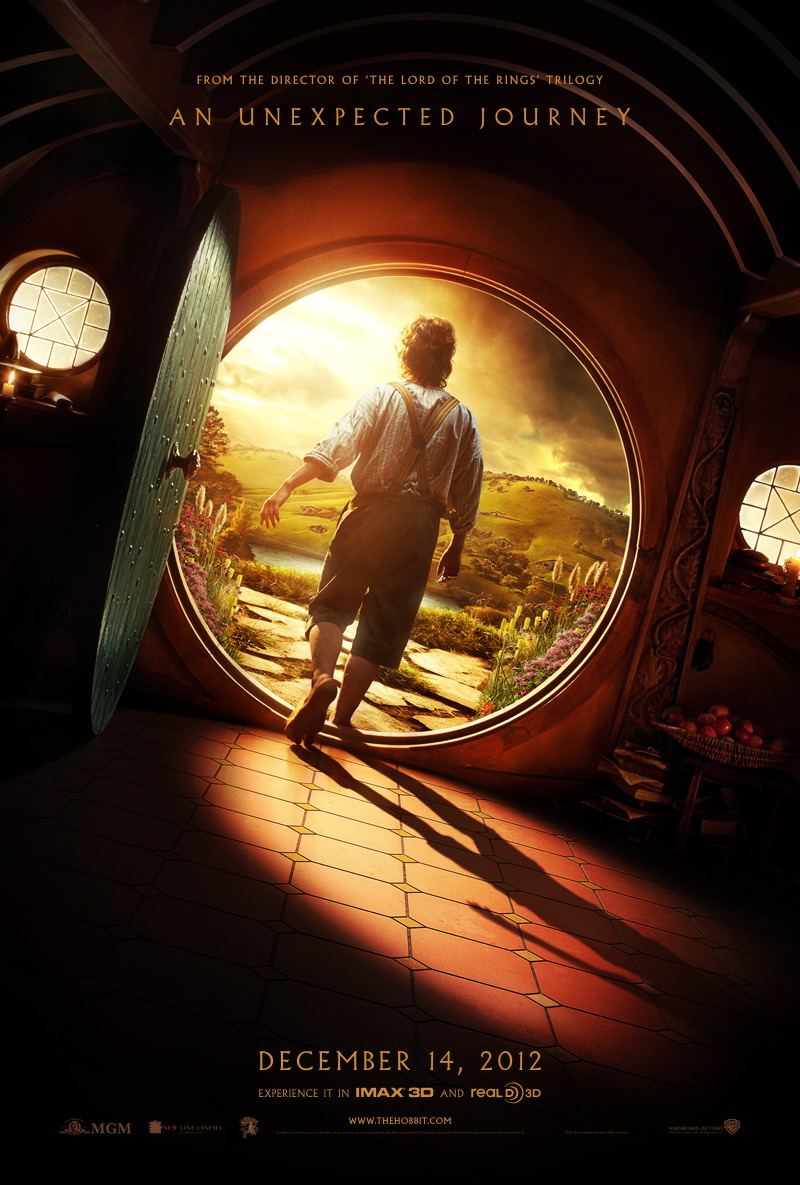 A mild-mannered country dweller is coerced by a wizard friend into helping a team of dwarves reclaim their tribe's lost treasure from the fire-breathing dragon who hoards it.
(I haven't read Tolkien's source novel for decades, so I'm unable to comment on how faithful this film is to the book. Given the admirable job that director Peter Jackson and partner/screenwriter Philippa Boyens did with Lord of the Rings, though, I trust this is respectful indeed of the original work.)
If you don't know, The Hobbit was the first Middle Earth novel by J.R.R. Tolkien, intended for younger readers. Its success led the publishers to ask Tolkien for more of the same, leading him to create the remarkable Lord of the Rings (LOTR) trilogy, set many years later in the same world and featuring many of the same characters, though targeted at more of an adult audience.
As I noted here previously, I was concerned at how Jackson would expand and extend one slender volume (even after adding material from the LOTR footnotes) into three longish films. With the exception of some early scenes as the thieves' party is getting underway, though, this never felt overlong, stretched or bloated. Rather it felt perfectly paced, generally relaxed and immersive. Seeing this made me realize how much the LOTR films were a brisk overview of their literary sources rather than a full-scale filming of same. In this case, however, watching the moview felt a lot like reading a novel, calmly getting to know the characters and casually observing events and landscapes in great detail. It's a great chance to drink in the magic of Middle Earth rather than racing through it, as we did last time.
The tone is of course different. LOTR is a desperate, epic attempt for the various peoples of Middle Earth to retain their freedom, making Frodo's trip to Mt. Doom absolutely critical. In this case, if the treasure heist fails, it'll be disappointing (forcing the dwarves to remain nomadic), but everyone will survive. This lightened burden happily allows the film to feel more like a rollicking, often comic, two-fisted adventure caper (a la the Pirates of the Caribbean films, perhaps) rather than the dead-serious, do-or-die quest of LOTR. Though the film starts out pretty sedate, things get exciting once we hit the trail, and we encounter some breathtaking action sequences by the film's end, as one battle and struggle quickly follows another before we can catch our breath.
Another great joy of this film is the lighthearted performance as Bilbo by the wonderful Martin Freeman (Watson in the BBC's Sherlock series). It's easy to identify with him as the eager yet worried hobbit setting out for lands unknown. He steps neatly into the shoes (or oversized feet) of Ian Holm, who played Bilbo in the LOTR films (Holm also appears here, as his older self). Also returning are Ian McKellan (Gandalf), Cate Blanchett (Galadriel), and Christopher Lee (Saruman). And of course, Andy Serkis pops up as the superbly spooky cave dweller Gollum.
It's hard to divorce yourself from your prejudices and expectations regarding this film (It'll be bloated and overlong! More childish than LOTR!). But if you can, and allow yourself to watch this simply as a film, I think you'll be thrilled, amused, and deeply entertained. Though initially reluctant to see this, I'm happily awaiting the next two installments and the mega-dragon battle that surely awaits.
What did you think of The Hobbit? Have you checked out any other good movies lately?
Related Posts