The Movie Date is a weekly feature where we discuss movies that may appeal to the YA audience. Andrew is The Reading Date's resident movie critic and this week he discusses the latest James Bond film: Skyfall.

James Bond's 23rd mission is his most challenging yet. Rather than simply deploying a series of gadgets ever suited to the plight at hand, 007 (Daniel Craig) must dig down deep inside himself, confront his demons, and find an inner core of strength. Consequently, the superb Skyfall plays less as a mindless action picture and more as a drama. That's not really a surprise, given that this is the first Bond to be helmed by an Oscar-winning director: Sam Mendes, who won for American Beauty.
Of course, there are action set pieces and colorful explosions, and they're suitably dazzling. But frankly some of the most riveting scenes in the film are moments of calm, quiet dialogue. Mendes trusts his material and his actors (who include another Oscar winner, Javier Bardem) enough not to have to goose these conversations with fistfights or gun battles. The effect is breathtaking; this certainly feels like the first Bond film made for grownups.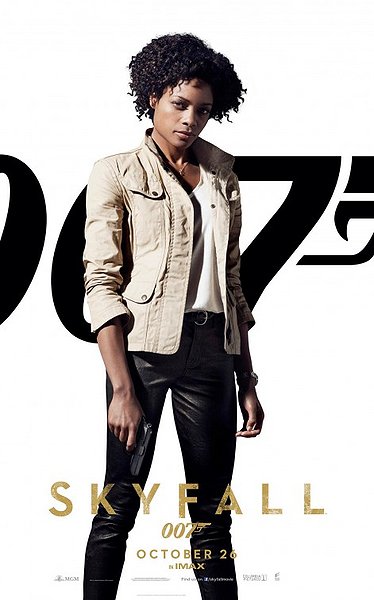 The backbone of the story is pretty simple: Bond needs to recover a hard drive filled with the names and identities of undercover agents working for MI6, the British Secret Service. Their exposure puts the UK intelligence community, and thus the entire free world, at risk. As the film starts, Bond and fellow MI6 agent Eve (the splendid Naomie Harris) are racing after a hitman who's stolen the hard drive; when Bond grapples with the assassin, Eve is told to shoot the villain, even though she may hit 007. She fires and strikes Bond, who falls into a waterfall and vanishes, presumably dead.
The order to fire came from Bond's boss lady, the crusty but compassionate M (Judi Dench, yet another Oscar winner). Bond of course has survived; he returns to duty when an attack on MI6 headquarters puts M at risk. (When he sees Eve again, Bond gently chides her for almost killing him.) 007 follows a trail through a Shanghai assassination and a Macau casino to an abandoned island, the hideout of sinister Silva (Bardem). The blonde, soft-spoken, and cruel renegade is a former MI6 agent who, like Bond, was left to die by M years ago, and understandably still has some issues with the woman…
Though M was portrayed as a man in the Fleming novels and the first sixteen films, Dench truly made the character her own in 1995's Goldeneye. Even as a man, M's name was thought by many to stand for Mother, and that's what Silva refers to her as in this film. Even with only a few minutes onscreen, Dench always lent gravitas to her previous Bond pictures, and thankfully we get to spend much more time with her in Skyfall; in fact, she's present during the entire third-act confrontation with Silva. And speaking of parents, we learn for the first time about Bond's family origins and revisit his roots.
Though this film liberates itself from the shackles of the now-ritualistic 007 story formula, there are still enough martinis, tuxes, shiny cars, and twangy guitars to please longtime Bond-o-philes. (Indeed, the appearances of each of these, as well as a couple beloved characters previously unseen in the Craig films, evoke delighted murmurs from the audience.) But movie buffs who appreciate character development, brilliant acting, and quality filmmaking will find much to appreciate, too, as the fifty-year-old Bond character finally grows up a bit.
Skyfall is rated PG-13 and is now playing in theaters nationwide.
Come back next week when Andrew counts down the Top 10 films he's looking forward to seeing this holiday season, (as well as the ones he'll be skipping).
Related Posts