Genres:
Movies
The Movie Date is a weekly feature where we discuss movies that may appeal to the YA audience. Andrew is The Reading Date's resident movie critic and this week he discusses If I Stay, directed by R.J. Cutler.

Lucy has read the book while Andrew has not so you get the skinny from both types of viewers today!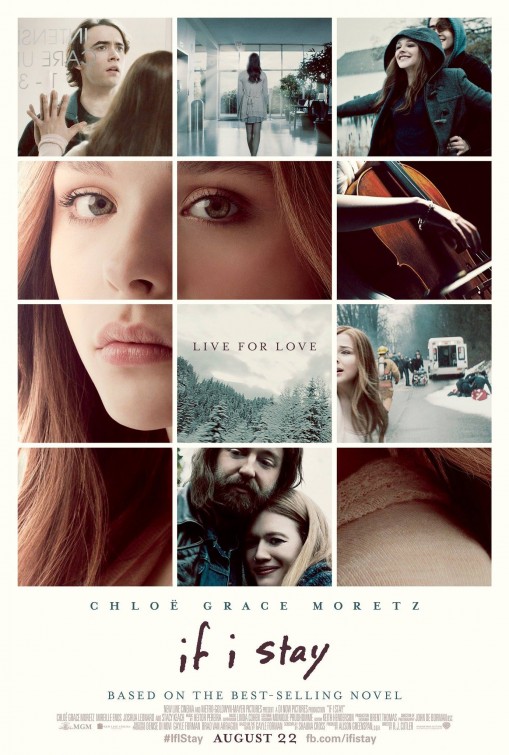 Comatose after surviving a horrific car accident, the walking spirit of a teen cellist ponders her family and rock-star boyfriend while deciding whether or not to carry on.
For Mia Hall (Chloe Grace Moretz) it's been, as they say, a wonderful life: loving ex-punk parents, a pesky but sweet kid brother, a devoted rock-star boyfriend, a supportive BFF, a promising career as a world-class cellist. But a car wreck on a wintry January morning throws it all in jeopardy: thrown clear of the wreckage, Mia wakes up in the snow and walks over to find paramedics working on… her? This can't be good. She follows her physical body to the hospital as she tries to get news of her loved ones, but since she's somewhat of a ghost no one can see her or talk to her. Unable to console her shocked, worried visitors, Mia reflects on happier times from the past couple years and considers whether to continue living in a world now turned tragically upside down.
That synopsis may sound a bit grim and melancholy, but I was surprised at how lively, funny, and "teen" (in a good way) this movie felt. As for the plot itself, I haven't read the book but knew more of the storyline going in than I have revealed here. I knew of some sad moments (that apparently happen later in the film than in the book) so I found myself dreading those revelations yet devastated when they occurred. Since the story is narrated by a future-savvy Mia, I wish she'd told us at the start about these losses. I also kept waiting for the "if I stay" part of the film—Mia's dilemma about whether or not to rejoin and revive her body—and it was a long time coming; to have heard her candidly evaluating her life through this filter would have been fascinating, and I'm sad to have missed that. I suppose I ought to read the book!
Those familiar with the novel wishing to see Mia's experiences played out on screen should love this film, though. The talented Chloe Grace Moretz just keeps getting better with each picture, here endowing the deep, sincere Mia with both humor and pathos. The supporting cast is uniformly excellent, with Mireille Enos in an uncharacteristically playful role as a witty, whiskey-soaked, ex-groupie mom. For a film about life and death, it's mostly bursting with life, including many loud rock and roll moments at boyfriend Adam's gigs and quieter, lyrical passages as Mia works her magic on the cello. There's a lot of love here, too, which is always great to see.
Will she stay? The movie ends a split-second after it's resolved, causing a gang of teen girls in our screening to gasp loudly and moan. Lucy's reaction was a bit quieter; she commented on our early matinee viewing, saying "There's nothing like a good morning cry." It's too bad this very good film exists in the long shadow cast by the excellent The Fault In Our Stars, but there's room for both. Especially if you're up for another feel-good weeper.

If I Stay is now playing in theaters. This film is Rated PG-13 and runs 106 minutes.
Lucy's opinion: If I Stay is a book very dear to my heart, and since I re-read it recently I had the book fresh in my mind. Seeing the film drew tears to my eyes from the opening frames, just from remembering the book!  Watching key moments from the book playing out on screen (Teddy, Gramps, Bonfire) really got to me, and there was a steady stream of tears for the last half hour of the movie. (It doesn't help when the rest of the theater is sobbing as well) I think the filmmakers did a great job with the source material and hit on all the key elements from the book. There were changes from the book, yes, to make some scenes more dramatic, particularly in regard to Mia and Adam's relationship. But I think the tone and spirit of the book came through, and I'm sure that author Gayle Forman (executive producer on the film) had a lot to do with that. The casting was spot on, especially Mia and her family. I hope this film is a huge success so we get to see Where She Went someday!
Have you seen the movie yet? We'd love to know your opinion!
Related Posts