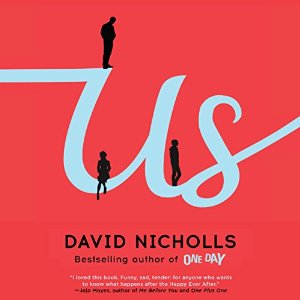 Us
by
David Nicholls
Narrator:
David Haig
Published by
Harper Audio
on 2014-10-28
Genres:
Family
,
Fiction
,
Literary
,
Romantic Comedy
Format:
Audiobook
Length:
14 hrs. 9 mins.
Source:
Purchase
Buy on Amazon
Goodreads
Douglas Petersen may be mild-mannered, but behind his reserve lies a sense of humor that seduces beautiful Connie into a second date...and eventually into marriage. Now, almost three decades later, they live more or less happily in the London suburbs with their moody seventeen year-old son, Albie. Then Connie tells him she thinks she wants a divorce.

The timing couldn't be worse. Connie has planned a month-long tour of European capitals, a chance to experience the world's greatest works of art as a family, and she can't bring herself to cancel. And maybe going ahead is for the best anyway? Douglas is privately convinced that this landmark trip will rekindle the romance in the marriage, and might even help him to bond with Albie.

Narrated from Douglas's endearingly honest, slyly witty, and at times achingly optimistic point of view, Us is the story of a man trying to rescue his relationship with the woman he loves, and learning how to get closer to a son who's always felt like a stranger.
I finished listening to Us by David Nicholls a couple week's ago, my first book by this author. (I have One Day on hold at the library, though I've been advised to skip the movie) Us is a book about a husband and wife who are on the verge of calling it quits. Douglas and Connie have been married for decades and have a grown son. One day Connie tells Douglas she wants a divorce. The family was just about to embark on a European holiday, and Douglas convinces Connie to go on the trip anyway- hoping to change her mind.
Family vacations can be stressful under the best of circumstances so I didn't have high hopes for Douglas and Connie's happiness. This holiday is awkward and tense, and Connie and their 17-year-old son Albie seem to gang up on the hapless Douglas. Douglas plans out every minute of the holiday in painstaking detail, much to the chagrin of the more free-spirited Connie. The trip reminds Douglas of happier times with Connie and we learn more about their history through flashbacks. The European vacation provides some comic relief to the sometimes painful and awkward family encounters.
The book is in Douglas's pov, so we don't get a balanced view of the marriage. Judging from Douglas' side of things, it doesn't feel like he's a good match for Connie to start with. This odd couple got together when Connie was on the rebound from her usual untrustworthy type of guy. Connie's an artistic type who likes to go with the flow and Douglas is a biochemist with a more rigid and scientific view of life. Connie doesn't really come off in a favorable light in Us, and I wouldn't have minded getting some of her side of things in this book.
The vacation veers into unexpected directions, as the broken family tries to make the best of the situation. The travel scenes are colorful and cinematic in feel and I wouldn't be surprised to hear about a movie adaptation in the near future.
I listened to the audiobook of Us, performed by David Haig. Haig is a good fit for Douglas and conveys his deadpan sense of humor. He breathes life into all the characters, from Connie's passionate personality to Albie's teenage rebellion. I think the audiobook enhanced the story and made the time fly by.
Check out a sample of Us by David Nicholls, read by David Haig:
This dramedy might appeal to fans of The Rosie Project. If you like family drama and relationship stories give this one a shot.
Related Posts