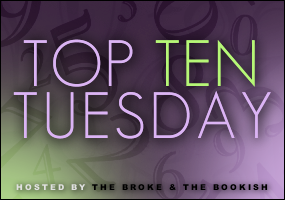 Top Ten Tuesday is an original feature from The Broke and the Bookish. This week we're counting down the Ten Authors I Own The Most Books From. 
This was a fun yet challenging list! I have books on my kindle, on my shelves, on my phone, and on my audible account so it wasn't easy determining which author's appeared the most. But I was really curious to find out! Goodreads seemed like a good place to gather this info so that's where I started. What is funny is that though I may own the most books by these authors that doesn't mean that they are the most read authors in my collection. Hmmm.
1. Richelle Mead – I have her Vampire Academy (6+ 1 graphic novel), Bloodlines (5) and Georgina Kincaid (6) series so that's 18 books? Whoa. I guessed correctly that Mead would top this list.
2. Cassandra Clare – I own the Mortal Instruments series in print (6) + audio (1), the Infernal Devices in print (3) + audio (3), and the Bane Chronicles (3 audio). That makes 16!
3. Colleen Hoover – I own almost all of her books in print (including a preorder of Ugly Love) so that includes the Slammed series (3 + Slammed and This Girl in audio), the Hopeless series (3 + Losing Hope & Finding Cinderella in audio), and Maybe Someday in print & audio. 13 in total!
4. David Levithan – My teen and I collect DL's books and his books take up a whole shelf! We have print copies of: Two Boys Kissing (and audio), Every Day, Every You, Every Me, The Lover's Dictionary, Love is the Higher Law, How they Met and Other Stories, The Realm of Possibility, Boy Meets Boy, Invisibility, Dash & Lily's Book of Dares, and Will Grayson, Will Grayson. That makes 12!
5. Maggie Stiefvater – I own many of Stiefvater's books in print and audio format. (I won a charity auction for a set of signed audiobooks) I own the Wolves of Mercy Falls series in HC (4) and audio (4), The Scorpio Races audio (1), and The Raven Boys & The Dream Thieves audio (2). So that makes 11 total.
6. Gayle Forman – I own If I Stay and Where She Went in print and audio, Just One Day and Just One Year in print and audio, plus Just One Night in kindle format. Also I own Sisters in Sanity in print. So that makes a total of 10.
7. John Green – The teen and I collect JG's books & own all his books in print (6 including Will Grayson, Will Grayson and Let it Snow). Plus I own audio copies of TFIOS (both versions- John Green and Kate Rudd narration), and Paper Towns. That's a total of 9 books.
8. Rainbow Rowell – I own all her books (Attachments, Eleanor & Park, Fangirl, Landline) in print and audio format so that's a total of 8 books.
9. Sara Zarr – I own Roomies (audio), The Lucy Variations (print and audio), How to Save a Life, Sweethearts, Story of a Girl (audio), and Once Was Lost, so that makes 7 total.
10. Lauren Oliver – I own the Delirium trilogy in print + Delirium in audio, Liesl & Po in audio, and The Spindlers in print and audio, for a total of 7.
Audiobook narrator bonus! I own more books narrated by Emma Galvin than any author on this list so she deserves a shout-out. Audiobooks I own include: Divergent series (3), Forever & Sinner, Beautiful Disaster series (2), California, Confessions of a Murder Suspect, Countdown, Exile, Faking It, Faking Normal, Hold Still, Lucid, Poison Princess, The Probability of Miracles, Red Hill, and Winter's Bone. That makes 19!
Which authors top your list?
Related Posts