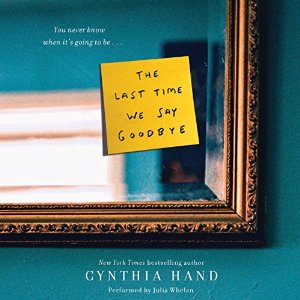 The Last Time We Say Goodbye
by
Cynthia Hand
Narrator:
Julia Whelan
Published by
Harper Audio
on February 10th 2015
Genres:
Death & Dying
,
Family
,
Love & Romance
,
Siblings
,
Social Issues
,
Young Adult
Format:
Audiobook
Length:
9 hrs. 19 mins.
Source:
Scribd
Buy on Amazon
Goodreads
There's death all around us. We just don't pay attention. Until we do. The last time Lex was happy, it was before. When she had a family that was whole. A boyfriend she loved. Friends who didn't look at her like she might break down at any moment. Now she's just the girl whose brother killed himself. And it feels like that's all she'll ever be. As Lex starts to put her life back together, she tries to block out what happened the night Tyler died. But there's a secret she hasn't told anyone--a text Tyler sent that could have changed everything. Lex's brother is gone. But Lex is about to discover that a ghost doesn't have to be real to keep you from moving on.
I'm a big fan of Cynthia Hand's Unearthly series and I was excited to check out her first contemporary novel. The Last Time We Say Goodbye is a beautiful, heart-wrenching book about a girl who lost her brother to suicide, and is now haunted by guilt and her brother's spirit. This emotionally devastating book tore me apart but I couldn't put it down.
Lex is in therapy to help process her brother's death. She's asked to journal to aid the recovery process. Lex's world shattered when she lost her brother- her relationship ended, she lost contact with friends, and lost her ambition to attend MIT. Her mother is understandably devastated as well and can't see out of the darkness.
It seems like Lex's brother Ty has some unfinished business that Lex has to help him take care of. She can smell his cologne in the house like he is calling out to her and finds clues that he's left her. In the process of putting Ty's affairs to bed, Lex also gets some closure and to reconnect with old friends and loved ones.
Though this story is a work of fiction, in an author's note (in the e-ARC) Hand confesses the story hits close to home. (I teared up reading her note) Many little details of the grieving process rang true to me- the guilt, withdrawal, and the inability to shed tears. This book is a killer and will resonate with anyone who's lost someone close to them.
I listened to the audiobook, performed by Julia Whelan (Gone Girl, I'll Give You the Sun, and many others). Whelan lets the words and message shine through and gives a restrained yet powerful performance. Emotional reads like this one are hard to listen to at times, but Whelan makes it an addictive listen.
I picked up the audiobook from Scribd, a subscription site where you can read or listen to unlimited digital books for a monthly fee. (Some call it a Netflix for books) I have a two-month free trial and The Last Time We Say Goodbye was my first listen. The whole process was very easy, and the Scribd app is intuitive. You stream the book on the app and can add  bookmarks, adjust the pace, use a sleep timer, find recommended books, etc. It might be hard to say goodbye when the two-month trial ends!
Take a listen to a sample of The Last Time We Say Goodbye:
Related Posts