The Movie Date is a weekly feature where we discuss movies that may appeal to the YA audience. Andrew is The Reading Date's resident movie critic and this week he discusses the latest YA book-movie adaptation The Perks of Being a Wallflower.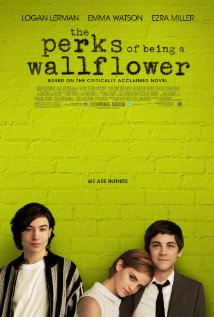 In 1990s Pittsburgh, an introverted freshman trying to fit in at school is befriended by a vivacious female senior and her lively stepbrother, leading him to confront his dark past.
Note: Review purposely written before reading the novel, so I can analyze this as a standalone film rather than an adaptation. My gracious wife and hostess Lucy, of course, reviewed the book recently, so check her write-up for the skinny on the tome itself.
Short version: Frankly incredible, deeply felt story that brings much-needed truth and authenticity to the high-school genre.
 
Long version: On paper this looks like places we've been before:
Story of a school year – September to June
Sympathetic teacher as mentor
Friendship that becomes a crush
Awkward kid trying to fit in
Positive, supportive girl
Indeed, the fact that the source novel was published thirteen years ago means that other, lesser films have been able to steal from but never equal this proud and touching story. But Perks still stands alone, and at last the book has a film (written and directed by the author) to match the novel's greatness (or so I'm told).
What immediately sets this apart from most high-school stories (and most stories, period) is that the protagonist has no grand schemes: to get the girl, to become popular, to win the competition. All poor Charlie (Logan Lerman, Percy Jackson & The Olympians: The Lightning Thief) wants is to get through the day without getting harassed or beat up (high-school goals I can definitely identify with!). We can see he's an introvert and painfully shy but we don't find out why until later in the film. Miraculously, he's suddenly befriended by plucky, crop-haired Sam (Emma Watson, the Harry Potter series) and her exuberant stepbrother Patrick (Ezra Miller), who adopt him as a sort of mascot. After accidentally getting high at a party, he comes out of his shell and offers witty insights to the crowd of free-spirited, nonconformist seniors, who immediately embrace him. "Welcome to the island of misfit toys," says Sam.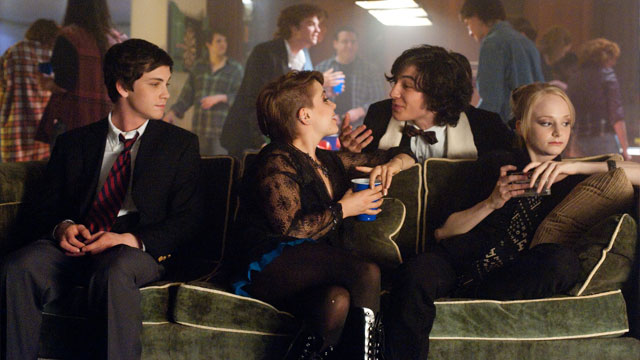 Naturally, Charlie and Sam are quietly attracted to one another, but they wind up with the wrong people, Sam with a college boy and Charlie with an amorous punker member of their group (Mae Whitman, Scott Pilgrim Vs. the World) who instantly smothers him with affection. But just when you think things are as easy as simple boy-girl issues, memories of Charlie's past come to haunt him: the recent suicide of a friend, the loss of a beloved aunt on Christmas Eve many years earlier. Compounding his problems, it looks like Sam as a senior will be going away to college right after graduation, leaving a heartsick Charlie to finish high-school, since he's only a junior. And it sure feels like the two of them have some unfinished business…
All of that doesn't do justice to the film's true strength, which is its honesty and authenticity. Though with its subject matter this film could easily be self-pitying and "emo" (a tearful song by The Smiths figures prominently), Charlie doesn't feel sorry for himself in the slightest. He knows he's walking wounded but he's proudly doing the best he can, simply glad to be alive and grateful for such good friends. He's determined to get better, though a third-act crisis keeps us guessing. The finale is bold and proud and reminds us that being a wallflower has its benefits: you get to observe life closely and feel it deeply instead of just letting it blow past you.
My wife and daughter, both fans of the book, both gave the film big thumbs up, calling it "VERY faithful." One point of variance is that the movie is non-epistolary; e.g. it doesn't maintain the premise of being a series of letters (though that's referenced lightly). Also, I didn't quite get the third-act revelation about the aunt that brings about the crisis. It's really not clear in the film what happened, so read a synopsis of the book—or the book itself, of course!—for some illumination.
Final note: Emma Watson is incredible, as is her American accent; I didn't think of Hermione even once. A fine start to her post-Harry career.
The Perks of Being a Wallflower is rated PG-13, and is now playing in New York and Los Angeles. The film rolls out to 18 more cities on September 28. Find out if it's playing near you here.
Related Posts