Mailbox Monday is a weekly event where we share our latest book arrivals. Link up and find new mailboxes to stalk at the Mailbox Monday blog!
This week was crazy and left me with little blogging or reading time. I was especially busy with getting my teenager ready to go to Europe for Spring Break. I miss her so much! This is empty nest practice for me for the time college rolls around I guess.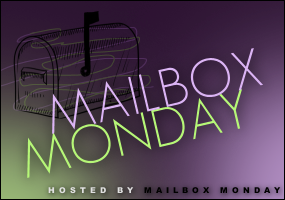 Books (and dvd's) in the Mail: 
One Thing Stolen by Beth Kephart – This book is set in Florence, Italy and is about a girl who is losing her grip on reality.
Purchased:
Big Hero Six – I missed seeing this one in theaters and hear good things! And also that it is quite sad.
Mockingjay Part 1 – I re-watched this recently and it holds up well. Can't wait for part 2.
Hold Me Closer: The Tiny Cooper Story by David Levithan – This is a companion novel / musical script to Will Grayson, Will Grayson.
Under a Painted Sky by Stacey Lee – Hey, a YA Western – you don't see those everyday!
Review eBooks:
Hold Me Like a Breath by Tiffany Schmidt – This is the first book of the Once Upon a Crime Family series and is a part thriller/ part spin on the Princess and the Pea tale. Sounds really unique!
Jesse's Girl by Miranda Kenneally – The latest installment of the Hundred Oaks series features a girl who wants to be a rock star and gets the chance to shadow a famous Nashville celebrity.
Audiobooks:
Finding Jake
by
Bryan Reardon
, performed by
George Newbern
– This timely book deals with the aftermath of a school shooting.
Fairest
(The Lunar Chronicles #3.5) by
Marissa Meyer
, performed by
Rebecca Soler
– Looking forward to listening to Levana's story.
Many thanks to: Chronicle Books, Bloomsbury, and Sourcebooks.
What's new in your mailbox?
Related Posts