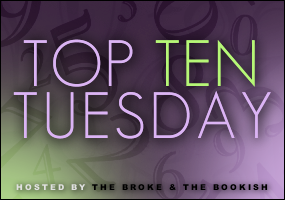 Top Ten Tuesday is an original feature from The Broke and the Bookish. This week we're counting down the Top Ten Books To Give To Readers Who Have Never Read X (examples: New Adult novels, historical fiction, a certain author, books about a certain topic, etc.) I wavered between writing about New Adult or Audiobooks but I thought I'd write about something I haven't talked about on the blog before: Crossover Books.
I like to alternate between reading YA and Adult Fiction, and lately I'm reading more A than YA. Crossover books are books that are written with an adult reader in mind but also appeal to YA readers. The term is kind of broad because a good book is a good book and can be enjoyed by any age. When I was a teen I read adult fiction, mystery and romance and now I've added YA to the mix. My own teen has very literary taste and also leans more toward adult fiction. Basically I think everyone should read what they want, though I still had fun considering this topic.
So, coming from a reader of YA and Adult fiction these are some books that I think have crossover appeal: (Bonus: all of these are good audiobooks as well)
Sci-Fi / Dystopia / Post-Apocalyptic 
1. The Girl with All the Gifts by M.R. Carey – This book transcends YA/Adult categorization, and also makes non-zombie readers believers. This is a tense, chilling thriller that makes you think.
2. Ready Player One by Ernest Cline – If you haven't read this yet, this sci-fi read is a lot of fun for fans of pop culture, and 80s aficionados. The movie adaptation rumors seem to be gaining traction again, and I'd love to see this one on the big screen someday. (Review)
3. California by Eden Lepucki – I'm about 75% of the way through this one and it's a realistic scary sort of post-apocalyptic/ survival story. It's about a couple (Cal and Frida) that leaves LA when everything falls apart, but return when they find themselves expecting a child. Their new community is secretive and threatens to tear Cal and Frida apart. (Not sure if that's literally or not, I haven't finished the book-ha!)
Contemporary / Humor
4. The Rosie Project by Graeme Simsion – This is such a quirky, fun, feel-good book. It's about a socially awkward genetics professor who decides it's time to find a wife. Rosie breaks all his rules for his ideal mate but finds himself caught under her spell anyway. (Review)
5. One More Thing: Stories and Other Stories by B.J. Novak – You may know Novak from The Office or The Mindy Project (Mindy Kaling's book is also a great crossover book!) There's something for everyone in this witty, offbeat short story collection. (Review)
Teen protagonist
6. The Fever by Megan Abbott – I actually thought this was a YA book when I read it, and like Dare Me it walks the line between mature YA and Adult. It's about a mysterious health epidemic that targets teen girls. (Review)
7. The Sea of Tranquility by Katja Millay – This is technically considered New Adult but it's an Alex award winner this year and I think it has wide-ranging appeal. Nastya and Josh have suffered huge losses in their lives and have pushed everyone away as a coping mechanism. They form an uneasy alliance and things really get intense.
8. Golden Boy by Abigail Tarttelin – This is another Alex award winner that is equally shelved as YA and Adult on Goodreads. Golden Boy centers on an intersex teen and this book is powerful and makes you think about gender roles and identity. (Review)
9. Tell the Wolves I'm Home by Carol Rifka Brunt – This book is set in 1987 around the height of the AIDS epidemic. It's about a 14-year-old girl that lost her beloved uncle to the disease and begins a secret friendship with his partner.
For Book Lovers in general
10. The Storied Life of A.J. Fikry by Gabrielle Zevin – A bookstore owner mourning the loss of his wife gets the surprise of his life when a baby is left in his shop. This book has a lot of surprises, mystery, quirky characters, and of course BOOKS! (Review)
I started a crossover bookshelf on Goodreads with many more titles if you're interested.
Want more crossover book recs?  There is an annual ALA award called the Alex Award that celebrates the "ten books written for adults that have special appeal to young adults, ages 12 through 18."  And School Library Journal has an excellent "Adult Books 4 Teens" blog with lots of great suggestions.
Do you also switch off between Adult Fiction and YA? What crossover books do you recommend?
Related Posts