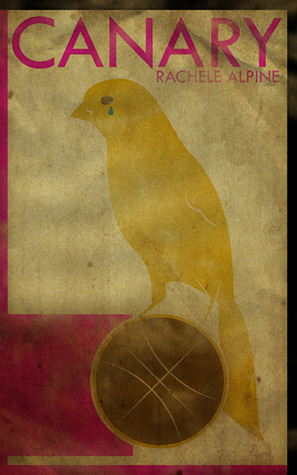 Book: Canary by Rachele Alpine, Medallion Press, On Sale Now
Book Info: YA Contemporary, purchased via Amazon, 486 pages.
Rating: 3.5 / 5 Stars
More Info:  Goodreads | Amazon | B&N
Publisher's description:
Kate Franklin's life changes for the better when her dad lands a job at Beacon Prep, an elite private school with one of the best basketball teams in the state. In a blog of prose and poetry, Kate chronicles the experience of dating a player, being caught up in a world of idolatry and entitlement, and discovering the perks the inner circle enjoys.

But those perks come at a price. At a party, one of her boyfriend's teammates takes his power too far and assaults Kate. She knows she should speak out, but her dad tries to silence her in an effort to protect the team. The world that once welcomed Kate has betrayed her, and she must decide whether to stay quiet or expose the corruption, destroying her father's career and bringing down a town's heroes.
Canary caught my eye because I liked the cover, the fact that it was an issue book, and that it is a mixed prose/verse novel. I read it in one day when I was sick with a cold and it kept me pleasantly distracted. It brings up issues of privilege, how we hold athletes to a different standard, high school and family drama, and moral dilemmas. There are several relevant hot button topics brought up and the book's release is timely to the back to school period.
Kate is hurting. She lost her mom to cancer; her dad is coping by throwing himself into his job as a high school basketball coach, and her brother Brett wants to enlist in the military. Kate thinks starting over at a new school, the elite Beacon Prep where her dad works, will give her the fresh start she needs. She quickly falls in with the popular clique and nabs a basketball player boyfriend. Her new popularity distracts her from her troubles at home, but she still isn't sure if she's liked for her or the fact that she's Coach's daughter.
I included the publisher's description for reference above because it mentions the fact that Kate is assaulted by one of the basketball players. It was interesting to me that this event takes place quite late in the book. Every time Kate would go to a party I would be wondering if this is when the assault would take place. I just mention this so you'll know that the majority of the book is not about the assault and the aftermath, but about Kate managing her day-to-day problems.
Kate is someone I didn't take too that well. It was hard to connect to her and her actions. We did both lose our mom's though, and her grieving and her family's coping methods rang to with me. Kate gets very caught up in the popularity, but at the same time I know that is all very realistic and understandable given her age and situation. The reader would like to warn Kate about these so-called friends, but everyone has to learn that lessen on their own. Not every character is going to be likable to everyone. I did like that she does show growth as a character throughout the book so that did redeem her in my eyes. Kate has a private blog where she journals all her thoughts about her experiences at home and school- it's the only place that she feels comfortable getting her truth out there. The blog entries are where we see the verse writing, and that is creative and lovely. The journals are interspersed throughout the book, and the website mentioned in the book is live in fact at allmytruths.com.
I like that the book talks about the complicated high school relationships and how hard it is to take a stand when you feel so outnumbered. There are a lot of bad guys in Kate's life, and I wanted her to fight for the good even though it seemed like an impossible task. I think a lot of teens will relate to Kate's situation and it could bring up some interesting discussions about privilege and the social hierarchies in high school.
Despite my lack of connection to the main character, I did find Canary to be quite a powerful and topical read. The characters are flawed and real and make you think. The emotions came through the pages, and I especially liked the inclusion of the blog entries. I think fans of issue-based contemporary YA should give Canary a try.
Check out the book trailer:
Related Posts