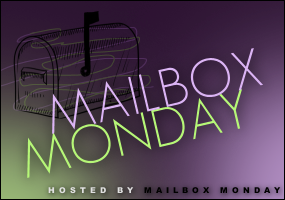 Mailbox Monday is a weekly event where we share our latest book arrivals. Link up and find new mailboxes to stalk at the Mailbox Monday blog!
This week has been a busy and hectic one so I haven't had much of an online presence. Plus, it's so freaking hot! I am ready for some of that brisk air, sweater-wearing, pumpkin spice latte weather I hear so much about. How was your week? Is it getting cooler where you are?
Here's what's new in my digital mailbox this week:
e-ARC's:
Whatever Life Throws at You by Julie Cross – This YA book is about a track star who falls for a rookie pitcher for the Kansas City Royals- her dad is the pitching coach.
Promise Me This by Christina Lee – Book 4 in the Between Breaths series, about Nate and Jessie from All of You.
Loop by Karen Akins – "A time traveler accidentally brings a boy from the past into the 23rd century, only to discover he's already in love with her future self and is keeping his own set of secrets." Sounds cool!
Beau, Lee, The Bomb & Me by Mary McKinley – A group of bullied teens go on a road trip and have all kinds of adventures.
Make My Wish Come True by Fiona Harper – Two sisters swap Christmases – Juliet goes to the Caribbean, and Gemma stays home to cook dinner. It sounds like that movie The Holiday!
Library:
Love Me Back by Merritt Tierce  – This book is featured in the current issue of EW and earned a B+ review. It's about a single mom who left Yale to waitress and has some self-destructive tendencies.
What's new in your mailbox?
Related Posts