Mailbox Monday is a weekly event where we share our latest book arrivals. Link up and find new mailboxes to stalk at the Mailbox Monday blog!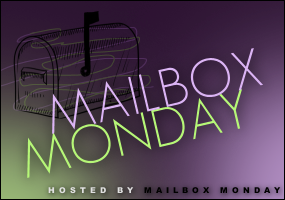 It rained on Halloween – that was exciting! It wasn't much, but every bit helps for the drought I guess. This week has been a challenging one, and I'm not sure how much I'll be able to be present on the blog this week. Books have been a good distraction though, so let's focus on that for now.
Books in the mail:
Loop by Karen Akins  – Surprise in the mail. I've already read this but didn't have a hard copy. It's a really fun time travel romance.
In the Afterlight by Alexandra Bracken – The final book in The Darkest Minds trilogy. I tried to capture the rainbow of colors in the book cover- it's very pretty in person!
eBooks for review:
When Joss Met Matt by Ellie Cahill (Liz Czukas) – A NA book about friends with benefits that want more.
Merry Christmas, Baby by Jill Shalvis – A Lucky Harbor holiday novella.
Every Last Promise by Kristen Halbrook – A witness to sexual assault decides whether to keep quiet or come forward.
99 Days by Katie Cotugno – Set in the 99 days of summer before college- a girl is tortured by a relationship gone wrong and two brothers are involved.
Invincible by Amy Reed – A girl with terminal cancer gets a second chance to live.
Library Audiobooks:
How to Build a Girl by Caitlin Moran, read by Louise Brealey  – A 90s era humorous coming of age.
Althea & Oliver by Cristina Maracho, read by Jorjeana Marie – Another 90s era coming of age! This one is about messy friendships.
Revolution by Deborah Wiles, read by Stacey Aswad, Francois Battiste, J. D. Jackson, Robin Miles – This is the second book in the Sixties trilogy, and since I liked the first book Countdown a lot – Revolution is set in "Freedom Summer" 1964 Mississippi. This book is a finalist for the National Book Award.
Thank you so much to: Big Honcho Media, St. Martin's, Random House, Forever (Grand Central Publishing), and HarperTeen.
What's new in your mailbox?
Related Posts