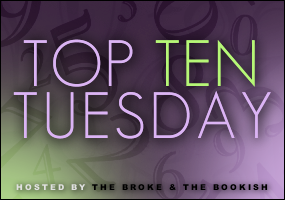 Top Ten Tuesday is an original feature from The Broke and the Bookish. This week's topic is the Top Ten Sequels I Can't Wait to Get. I don't read a ton of series books, so I was surprised I was able to get to ten, (er, fifteen) books!
15 Most Wanted Sequels of 2015:
YA:
1. The Ruby Circle (Bloodlines #6) by Richelle Mead – Though this list isn't necessarily in order, I'm very impatient to read the final book in the Bloodlines series. (Feb. 2015)
2. Throne of Glass #4 by Sarah J. Maas – No title or cover yet, but still scheduled for Sept. 2015? Hope so!
3. P.S. I Still Love You (To All the Boys I've Loved Before #2) by Jenny Han – Lara Jean is torn between Peter and a boy from her past. (April 2015)
4-5. Perfect Couple and Most Likely to Succeed (Superlatives #2-3) by Jennifer Echols – This series is really fun, and next year we get not one but two books! (Jan. & Aug. 2015)
6. Rhiannon (Every Day #2) by David Levithan – A companion novel to Every Day, told from A's love interest Rhiannon's POV. I haven't heard any news on this one since the PW article that stated a Spring 2015 release. Anyone know if this is still happening?
7. The Stars of Summer (All Four Stars #2) by Tara Dairman – I love this NYC foodie middle grade series and can't wait to see what Gladys Gatsby gets up to next. And what a cute cover! (May 2015)
8. The Boy Most Likely To (My Life Next Door #2) by Huntley Fitzpatrick – I hope that the 2015 release date is still accurate! This book features Tim and Alice from MLND.
9. Famous in Love #2 by Rebecca Serle – I think the author is writing this now so not sure if a 2015 release date is firm. It's safe to say you have time to catch up on the very cute Famous in Love if you haven't yet!
Romance:
10. Deep (Stage Dive #4) by Kylie Scott – The final book in the series is about Lizzy and Ben the bass player. Love this series! (March 2015)
11. Thoughtful (Thoughtless #1.5) by S.C. Stephens – Thoughtless in Kellan's POV. (Feb. 2015)
12-13 Christina Lauren double feature: Beautiful Secret (Beautiful #4)  – Featuring Niall Stella (Max's brother) and Ruby from the Wild Seasons series and Dark Wild Night (Wild Seasons #3)  – Featuring Oliver and Lola (April & Sept. 2015)
14. Sweet & Wild (Canton #2) by Viv Daniels – I liked One & Only and hope we get some news on this sequel soon.
15. Asa (Marked Men #6) by Jay Crownover – I'm only on book 3 in this series, but I'll be caught up by April!
What sequels are on the top of your list?
Related Posts