Taylor Jenkins Reid's adult contemporary fiction books (Forever, Interrupted and After I Do) have made a big impression on YA crossover readers. I like books that straddle the line between YA and Adult so I've kept an eye on this author. I recently found out about Reid's upcoming novel Maybe in Another Life – it's about a woman who bumps into her high school boyfriend and has to decide whether to go home with him or with her roommate. Both options play out in alternating chapters – what an interesting concept! Read on to find out more about the book, but first here's the cover:
MAYBE IN ANOTHER LIFE by Taylor Jenkins Reid
 Atria Books/Washington Square Press | 352 pages | July 7, 2015 | $16 PB /$11.99 eBook
Preorder: Amazon * Barnes & Noble * Books-a-Million * IndieBound * Apple
About the Book:
At the age of twenty-nine, Hannah Martin still has no idea what she wants to do with her life. She has lived in six different cities and held countless meaningless jobs since graduating college, but on the heels of a disastrous breakup, she has finally returned to her hometown of Los Angeles. To celebrate her first night back, her best friend, Gabby, takes Hannah out to a bar—where she meets up with her high school boyfriend, Ethan.

It's just past midnight when Gabby asks Hannah if she's ready to go. Ethan quickly offers to give her a ride later if she wants to stay.

Hannah hesitates.

What happens if she leaves with Gabby?

What happens if she leaves with Ethan?

In concurrent storylines, Hannah lives out the effects of each decision. Quickly, these parallel universes develop into surprisingly different stories with far-reaching consequences for Hannah and the people around her, raising questions like: Is anything meant to be? How much in our life is determined by chance? And perhaps most compellingly: Is there such a thing as a soul mate?

Hannah believes there is. And, in both worlds, she believes she's found him.
Doesn't that sound like a fun concept? I'm a sucker for these Sliding Door-type stories (and stories set in LA.) I'm really looking forward to reading this one, how bout you? Stylin' cover too!
ABOUT THE AUTHOR: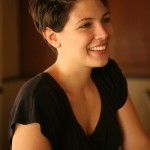 Taylor Jenkins Reid is an author and essayist from Acton, Massachusetts. She is the author of Forever, Interrupted and After I Do. She lives in Los Angeles with her husband, Alex, and her dog, Rabbit.
Follow her: Blog * Facebook * Twitter * Instagram
Related Posts