Maybe in Another Life
by
Taylor Jenkins Reid
Published by
Simon and Schuster
on July 7th 2015
Genres:
Fiction
,
Contemporary Women
,
Family Life
,
Romance
,
Contemporary
,
General
,
Thrillers
,
Suspense
Pages:
352
Format:
ARC
Source:
Publisher
Buy on Amazon
Goodreads
Also by this author:
Forever, Interrupted
,
After I Do
,
One True Loves
From the acclaimed author of Forever, Interrupted and After I Do comes a breathtaking new novel about a young woman whose fate hinges on the choice she makes after bumping into an old flame; in alternating chapters, we see two possible scenarios unfold—with stunningly different results.

At the age of twenty-nine, Hannah Martin still has no idea what she wants to do with her life. She has lived in six different cities and held countless meaningless jobs since graduating college. On the heels of leaving yet another city, Hannah moves back to her hometown of Los Angeles and takes up residence in her best friend Gabby's guestroom. Shortly after getting back to town, Hannah goes out to a bar one night with Gabby and meets up with her high school boyfriend, Ethan.

Just after midnight, Gabby asks Hannah if she's ready to go. A moment later, Ethan offers to give her a ride later if she wants to stay. Hannah hesitates. What happens if she leaves with Gabby? What happens if she leaves with Ethan?

In concurrent storylines, Hannah lives out the effects of each decision. Quickly, these parallel universes develop into radically different stories with large-scale consequences for Hannah, as well as the people around her. As the two alternate realities run their course, Maybe in Another Life raises questions about fate and true love: Is anything meant to be? How much in our life is determined by chance? And perhaps, most compellingly: Is there such a thing as a soul mate? Hannah believes there is. And, in both worlds, she believes she's found him.
Taylor Jenkins Reid's MAYBE IN ANOTHER LIFE is on sale today! This book really appealed to me with its "Sliding Doors" premise, the idea of fate, soul mates, relationships and second chances, and finding happiness and meaning in your life. This is the first book I've read by Reid (though I have her other two books on my shelf!) and I found the book really charming and thought-provoking. Read on to find out more about the book.
Hannah is trying to put down roots after bouncing around from city to city. She is back home in Los Angeles with her best friend Gabby and considering getting back together with Ethan, the one that got away. One fateful night she is faced with a decision that will change the course of her life in a dramatic way. We get to see how Hannah's life plays out if she decides to go home with Ethan or go home with Gabby.
In alternating chapters we see Hannah's two life scenarios develop. It's so interesting and surprising to see how Hannah's life changes from making one simple decision. It really makes you consider the different versions that could exist of your own life, and what circumstances would be consistent and what would be different.
The author deftly manages Hannah's two timelines and made me interested in each journey. I did have a favorite of the two possible endings, but it was fun to see each destiny play out. There are some big surprises and reveals in store that make this an addictive read. We get to see different types of love and connections and the way they shape Hannah's future(s).
I especially loved the friendship between Hannah and Gabby and how they had each other's back through some really challenging times. I was reminded of these two:
I received a digital review copy of this one but liked it so much I preordered a print copy, and even received it a few days prior to the official release date. The print copy has some discussion questions if you decide to read this with a book club. And if you do, I suggest you provide lots of cinnamon rolls…Hannah's favorite!
Contemporary Fiction has been stealing me away from YA lately, and I definitely think this one has crossover appeal for YA fans. Go grab yourself a copy today!
About the Author: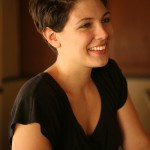 Taylor Jenkins Reid is an author and essayist from Acton, Massachusetts. She is the author of Forever, Interrupted and After I Do. She lives in Los Angeles with her husband, Alex, and her dog, Rabbit. Follow Taylor online: Website | Facebook | Twitter | Instagram
Related Posts