Racing the Sun
by
Karina Halle
Series:
Where Sea Meets Sky #2
Published by
Simon and Schuster
on July 28th 2015
Genres:
Fiction
,
Romance
,
New Adult
,
Contemporary
,
General
Pages:
336
Format:
ARC
Source:
Publisher
Buy on Amazon
Goodreads
It's time for twenty-four-year-old Amber MacLean to face the music. After a frivolous six months of backpacking through New Zealand, Australia, and Southeast Asia, she finds herself broke on the Mediterranean without enough money for a plane ticket home to California. There are worse places to be stuck than the gorgeous coastline of southern Italy, but the only job she manages to secure involves teaching English to two of the brattiest children she's ever met.

It doesn't help that the children are under the care of their brooding older brother, Italian ex-motorcycle racer Desiderio Larosa. Darkly handsome and oh-so-mysterious, Derio tests Amber's patience and will at every turn—not to mention her hormones.

But when her position as teacher turns into one as full-time nanny at the crumbling old villa, Amber finds herself growing closer to the enigmatic recluse and soon has to choose between the safety of her life back in the States and the uncertainty of Derio's closely guarded heart.
Racing the Sun is the first book I've read by popular New Adult author Karina Halle. This one appealed to me because it's a contemporary romance with a gorgeous Italian setting. I haven't been to Italy in some years, but it was fun to visit and daydream with this romantic read. This book is a companion read to Where Sea Meets Sky but can definitely be read as a standalone.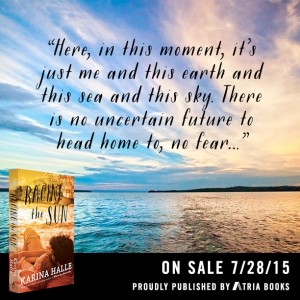 In Racing the Sun, Amber is running out of time and money on her "finding herself" European backpacking trip and can't even afford to fly back home to San Jose, CA. In desperate need of money, she accepts a position in Capri as a live-in English teacher/nanny to two small children. Her employer is the twins' older brother Derio – a sexy, brooding man with some issues of his own. Both Amber and Derio have some personal obstacles to overcome and may be the only ones to help each other through it.
Amber's story is relatable – she's in her mid-twenties and hasn't really figured out what she wants to do and what makes her happy. Hanging out in Capri is a nice diversion but soon the responsibilities get real, and her feelings for Derio complicate matters.
The love story between Amber and Derio builds in a natural and believable way. You could feel their chemistry, though it's not an easy road for them. Capri makes an amazing backdrop for their romantic adventures though.
I found Karina Halle's writing to be so readable and effortless. It was easy to get lost in this story- and the only problem was I wish I were at the places she was describing. And foodie fans will definitely want to get their Italian fix on after reading this one.
I'm looking forward to catching up with Halle's other books- she puts her travel background (and research trip to Capri!) to good use in Racing the Sun.
About the Author: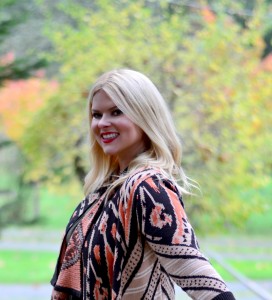 Karina Halle is the New York Times bestselling author of Where Sea Meets Sky, The Pact, Love in English, and other wild and romantic reads. A former travel writer and music journalist, she lives on an island off the coast of British Columbia with her husband and her rescue pup, where she drinks a lot of wine, hikes a lot of trails, and devours a lot of books.
Related Posts