Top Ten Tuesday is an original feature from The Broke and the Bookish where we make all kinds of bookish lists. This week's topic is Book to Movie Adaptations!
I like book adaptations because it's cool to see favorite books come to life on the big screen (when they're done well.) And, if I haven't read the book yet, sometimes a movie will inspire me to pick it up.  Here are the Top Ten Book to Movie Adaptations I'm Looking Forward To:
Room
Now Playing
I loved the book and hear the movie is fantastic. I need to go check it out soon. Check out a movie Q&A with author Emma Donoghue.
The Hunger Games: Mockingjay Part 2
In Theaters: November 20
Can't wait! Check out some movie teasers.
The Divergent Series: Allegiant
In Theaters: March 18, 2016
Allegiant part two is called Ascendant and I guess will follow a year later. Wonder if any changes will be made to the ending!
Miss Peregrine's Home for Peculiar Children
In Theaters: December 25, 2016
With Tim Burton and Danny Elfman working on the adaptation expectations are high! Follow the movie's Facebook feed for updates: https://www.facebook.com/PeregrinesMovie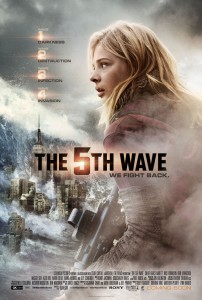 The 5th Wave
In Theaters: January 15, 2016
With The Hunger Games and Divergent movies winding down will this scifi thriller help to fill the void? Get updates on their official twitter feed: https://twitter.com/5thwavemovie
Me Before You
In Theaters: March 18, 2016
A lot of us hold this book dear to our hearts so hopefully the film will do it justice! Check out some pictures of the cast and behind the scenes shots.
A Monster Calls
In Theaters: October 14, 2016
I liked the book a lot when I read it several years ago- good thing there's time for a reread. Liam Neeson plays the monster in the film.
The Statistical Probability of Love at First Sight
In Theaters: 2016
This has the potential to be an awesome rom-com! They are pitching it as When Harry Met Sally for the younger generation.
Before I Fall
In Theaters: 2016
My favorite book of Oliver's – this Mean Girls meets Groundhog Day story should translate well to film. Zoey Deutch is set to star.
Ready Player One
In Theaters: December 15, 2017
A lot of us loved this futuristic, 80s nostalgic love letter to Gaming but have our doubts about a movie adaptation. If done right, it will be awesome! Stephen Spielberg is at the helmbefo though, and I hear he knows his stuff so, let's cross our fingers 🙂
The Royal We
Currently In Development
I squealed with delight at the news that this royal romance will be hitting the big screen, with a screenplay by Lauren Graham, and starring Mae Whitman.
The Scorpio Races
Currently In Development
I'm glad to see that movie adaptation is finally getting off the ground!
One other book to movie adaptation that you should keep an eye out for is Brooklyn! It's in limited release now and it's definitely worth your time! (Review)
OK so that was a top 12 actually! Also, I'm curious to check out some upcoming book to TV adaptations: Thirteen Reasons Why, Shatter Me, and Famous in Love.
What book to movie adaptations are on your radar?
Related Posts