Top Ten Tuesday is an original feature from The Broke and the Bookish. This week is a Thanksgiving week freebie and my list is food-themed. You know those books that make you so hungry when you're reading- like the Capitol dinners in The Hunger Games (there's even a Hunger Games cookbook!) or the decadent concoctions in Chocolat.  Many of these food-themed books would make for excellent book club/dinner pairings and participants could whip up the recipes that appear in many of these books.
Here are ten Foodie Fiction Reads to Feast on: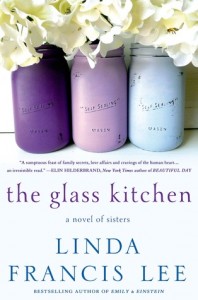 The Glass Kitchen: A Novel of Sisters by Linda Francis Lee – Sisters, secrets, and second chances. Portia has a magical way with food and uses it to heal others and find herself again.
Kitchens of the Great Midwest by J. Ryan Stradal – Food and family are featured in this novel about a star supper club chef.
Food Whore by Jessica Tom – A food critic loses his sense of taste, and a budding chef agrees to dine with him and ghostwrite his reviews. What could go wrong?
Little Beach Street Bakery by Jenny Colgan – This one is described as a modern day Chocolat. A heartbroken woman turns her bread-baking hobby into a successful business and falls for the local beekeeper.
The Coincidence of Coconut Cake by Amy E. Reichert – A romance between a chef and the food critic (there's a case of mistaken identity) that trashed her restaurant? Cute!
The Particular Sadness of Lemon Cake by Aimee Bender – Young Rose discovers she has an unusual gift- she can taste the emotions of others through the food they prepare. The magical realism component in this book is pretty unusual too.
The Hundred-Foot Journey by Richard C. Morais – I've been meaning to check out the movie version of this one. The Haji family opens an inexpensive Indian restaurant when they move to the French Alps, and Madame Mallory chef of the posh French restaurant next door is none too pleased.
Delicious! by Ruth Reichl – Reichl's fiction debut is about food, family, mystery, and gingerbread cake. Yummy!
All Four Stars by Tara Dairman – This charming series centers on Gladys Gatsby, an 11-year-old NYC food critic with an adventurous palate. Book two is all about her search to find the perfect hot dog.
The Truth About Twinkie Pie by Kat Yeh – Recipes, family and food are on the menu on this debut about a girl who wants to reinvent herself at a new school.
What are your favorite foodie reads?
Related Posts