It was a busy year and these five titles (all seen in theaters) got away from me. All five, I believe, are worth a look by Reading Date readers.
Five + Films From 2015 I Should Have Reviewed Here:
MAD MAX: FURY ROAD / MISSION: IMPOSSIBLE – ROGUE NATION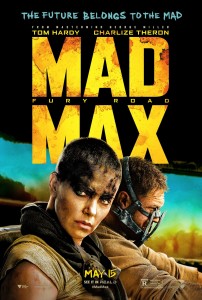 These two seemingly male-targeted action pictures stealthily feature strong, smart female leads that steal the show from their male heroes. Significantly (spoilers?), the male and female characters never hook up or even share a smooch; instead they are mature and trusted partners too busy saving the free world to fiddle around with romance.
Quite unexpectedly, Fury Road is my favorite film of the past few years, and I'm not even a fan of the franchise. It touched me on a deeply mythical, kinda Lord of the Rings, level. Charlize Theron's unglamorous turn as tough-as-nails truckdriver Furiosa is the stuff of legend. She and her cargo of female escapees don't really need rescuing, but they are glad for the help of Max, who himself is happy to be plucked out of the searing desert.
In Rogue Nation, Tom Cruise's Ethan Hunt meets his match in fellow agent Ilsa Faust (Rebecca Ferguson), who actually rescues him more than he does her. As the story progresses, we learn that Ilsa may have allegiance to more than one party, making her suddenly much more interesting than chipper good guy Ethan. When the baddie takes a hostage in the third act, I was happy to see it wasn't Ilsa. She's too smart for that.
DOPE

This is pretty much a Risky Business update: a responsible kid heading off to a good college must pull off an illegal scam in order to move on with his life. Here Dom's attraction to a mystery girl leads him to a South Central gangsta party, in which he accidentally winds up with a backpack full of the drug "molly." His freewheeling friends convince him not to dump the stuff, but instead create a complex yet secure drug dealing business on the Internet. Of course the real dealers want their stuff back, and then there are the college interviews to deal with… Though set in the present, this sweet and irresponsible romp feels like a 90s throwback due to the use of old-school hip-hop on the soundtrack and the kids' love of retro culture. Some grossout, drug, and sex humor but no shortage of fun.
PAPER TOWNS
Poor John Green; the film of The Fault In Our Stars set such a high bar that any followup was bound to be seen as a letdown. This is a smaller and less ambitious film, but no less successful in my estimation. After Quentin's teen crush Margo leads him on an all-night spree of vengeful pranks, she disappears. But he realizes that she's cleverly left him a trail of clues that may lead him to her current hiding place in another state. As Quentin gathers his sympathetic pals and their female friends to track down mysterious Margo, the film kicks into road-trip overdrive. Because the story doesn't quite end in a predicable place, I think many viewers found the film (and book) dissatisfying. But its message is mature and profound, so I give it thumbs up. (Don't miss press-weary actress Cara Delevigne's viral clip as she deals with a cheery and sexist morning news crew!)
SPY

This James Bond spoof starring comedic force of nature Melissa McCarthy could have been a disaster; instead it manages to pull off a really engaging little adventure tale while preserving its self-respect (and the viewer's, too). It reverses McCarthy's character arc from The Heat; here she starts out as a capable if dowdy agent who becomes more raunchy and fierce as the story progresses. It really exists in Bond's world, with stunning action stunts, scenic global locales, and Jude Law playing a dead ringer for 007. Rose Byrne and Jason Statham are clearly having a ball playing larger- (and sillier-) than-life baddies. It's hard to explain, but at every turn the film is smart where it could have been stupid. Worth a look even if this doesn't seem like your cup of tea.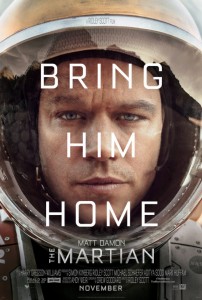 THE MARTIAN
The fact that this sci-fi epic is up for Best Comedy at the Golden Globes should tell you a little about its light and positive tone, very unexpected in this genre. The comedy derives from the video-journal entries created by abandoned astronaut Mark Watney (Matt Damon), his bleak gallows humor underscoring both the hopelessness of his situation and the doggedness of his spirit. If you thought Gravity was intriguing but too heavy, you'll find this uplifting saga lighter than air.
HONORABLE MENTION
Like Fury Road and Rogue Nation, Star Wars: The Force Awakens features a strong female lead, though I found Rey's character arc ultimately less interesting than that of her stormtrooper-turned-rebel pal Finn. Inside Out was a fascinating, even therapeutic, glimpse inside the complex working of the human mind, both sentimental and hilarious in the classic Pixar vein. In American Ultra, a small-town stoner learns he's actually an action hero; ultimately there were too many guns and explosions for my liking, but it was another good part for Kristin Stewart as the stoner's girlfriend (and more?). Chappie finds an armored police robot fitted with artificial intelligence—and the innocence of a child. Again, lots of explosions, but it's sweet to watch the poor creature struggling, like a troubled teen, to choose between what's cool and what's right.

Related Posts