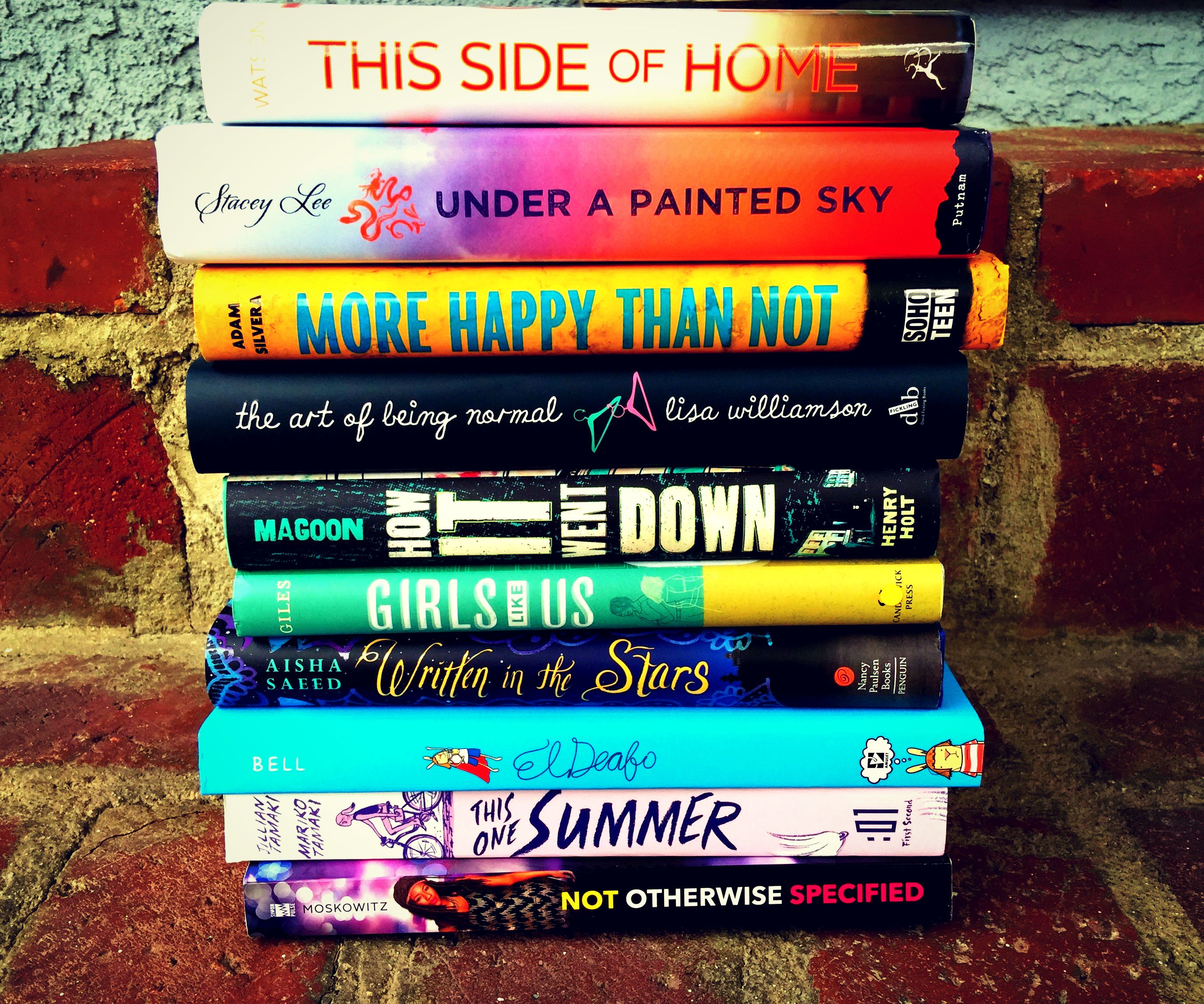 Top Ten Tuesday is an original feature from The Broke and the Bookish. I really like this week's topic- Ten Books That Celebrate Diversity. Reading books that celebrate diversity is a passion of mine, and in fact I'm part of a YA Diversity book club. I'm glad that there is more of a focus on reading diverse books, with the We Need Diverse Books campaign, and reading challenges like Dive Into Diversity. I recently attended a "We Demand Diverse Books" panel at Comic-Con and added even more books to my TBR, some of which are listed below. I shopped my bookshelves for a selection of books that celebrate diversity, and I can't wait to see everybody else's lists for more reading suggestions.
Here are Ten Books That Celebrate Diversity:
This Side of Home by Renée Watson – This novel is about issues of class, race, and identity as twins' Nikki and Maya's neighborhood is undergoing gentrification.
Under a Painted Sky by Stacey Lee – This YA western is about two girls, one African-American and one Chinese-American, who pose as boys to survive on the Oregon Trail. A story of friendship, survival and adventure.
More Happy Than Not by Adam Silvera – This emotional debut is about a teen growing up in the Bronx and deals with issues of sexual identity, culture and class politics.
The Art of Being Normal by Lisa Williamson – There are all too few books celebrating the "T" in LGBTQIA so this one about the transgender experience caught my eye. David identifies as a girl and bonds with Leo, the new boy at school.
How it Went Down by Kekla Magoon – This "ripped from the headlines" award-winning book focuses on a racially charged police shooting and it's told in multiple pov by members of the community.
Girls Like Us by Gail Giles – This book focuses on two special ed high school graduates who become roommates in the real world.
Written in the Stars by Aisha Saeed – This story is about a Pakistani-American girl who falls in love with someone her parents don't approve of. They then take her to Pakistan with the intent of setting up an arranged marriage. This author is one of the founding members of the "We Need Diverse Books" campaign.
El Deafo written and illustrated by Cece Bell – I saw this author speak at Comic-Con and got even more interested about this book, with is a graphic novel memoir. In El Deafo, Bell writes about her experiences as the only kid who couldn't hear at school. (Hear more about it from the author's mouth in this video)
This One Summer by Jillian Tamaki, Mariko Tamaki – This award-winning graphic novel is a coming-of-age set over one transformative summer. It features body diversity and socioeconomic diversity.
Not Otherwise Specified by Hannah Moskowitz -This book features a Black female bisexual protagonist who is trying to find acceptance in a world that wants her to fit in a certain box.
Have you read any of these, or did any catch your eye? 
Related Posts