Today I'm happy to share our first spotlight book for the YA Diversity Book Club! In this book club we chat about the latest YA books that celebrate diversity. Our book club includes Sandie @ Teen Lit Rocks, Kristina @ Gone Pecan and Kristan @ We Heart YA. Each month we'll focus on one book with a book review (our discussion chat) and an author Q&A plus some fun bonus features.
Our book club kicks off with a bang with Una LaMarche's LIKE NO OTHER, a star-crossed lovers story featuring an interfaith, interracial couple. Devorah and Jaxon both live in Crown Heights Brooklyn but might as well live worlds apart. They might never have met except for one fateful elevator ride where they are trapped during a hurricane. This meet-cute strikes a match in Devorah that has her questioning everything she's ever known.
About the Book: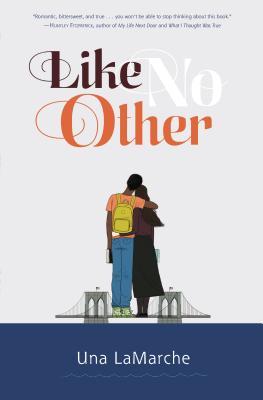 Fate brought them together. Will life tear them apart? 

Devorah is a consummate good girl who has never challenged the ways of her strict Hasidic upbringing.

Jaxon is a fun-loving, book-smart nerd who has never been comfortable around girls (unless you count his four younger sisters).

They've spent their entire lives in Brooklyn, on opposite sides of the same street. Their paths never crossed . . . until one day, they did.

When a hurricane strikes the Northeast, the pair becomes stranded in an elevator together, where fate leaves them no choice but to make an otherwise risky connection.

Though their relation is strictly forbidden, Devorah and Jax arrange secret meetings and risk everything to be together. But how far can they go? Just how much are they willing to give up?

In the timeless tradition of West Side Story and Crossing Delancey, this thoroughly modern take on romance will inspire laughter, tears, and the belief that love can happen when and where you least expect it.
Like No Other is on sale today! Find it: Goodreads * Amazon * Barnes & Noble * IndieBound 
Our full book club discussion is featured on Teen Lit Rocks, but I'll also share a few of my first impressions of the book:
Like No Other – Top 5 Greatest Hits (Song titles that relate to the book)
Faith – One of the most intriguing parts of the book is Devorah's story and we learn a lot about her Hasidic faith. Basically there are rules about her interactions with the opposite sex and Jaxon is testing her resolve.
In Your Eyes – All of the romantic scenes between Devorah and Jaxon are quite desperate given that their love is forbidden, and their stolen moments are few but they are meaningful. There's even a little nod to Say Anything in there!
No Sleep Till Brooklyn – Many of my favorite romantic comedies are set in New York, and it's cliché to say (as Amy Poehler pokes fun at in They Came Together) but the Brooklyn setting is like a character itself in Like No Other. The Crown Heights is vividly painted and it's easy to picture Devorah and Jaxon's favorite haunts.
Two Sides of Every Story  – Like No Other features both Jaxon and Devorah's viewpoints. Devorah's story is given a stronger emphasis, and I found myself wanting to learn more about Jaxon, though the important issues came through. Though the characters are from different worlds it's interesting to see the similarities in their families regardless.
Independent Woman – In addition to exploring religious and racial themes, feminism also is plays a role. You'll root for Dev to forge her own path, even more than the love story I'd guess.
Follow all the book club members for more exclusive content:
We had a great book club conversation about Like No Other  – be sure to check out the transcript @ Teen Lit Rocks.
Also, stop by and read the Author Q&A @ We Heart YA. Una LaMarche talks about the inspiration behind the book, her research, and thoughts about diversity in books today.
And finally check out a fun feature called "We can quibble what to call it" @ Gone Pecan.
Related articles
Related Posts