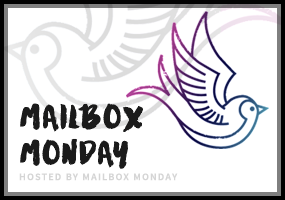 Mailbox Monday is a weekly event where we share our latest book arrivals. Link up and find new mailboxes to stalk at the Mailbox Monday blog.
My physical mailbox was empty this week but my kindle was overstuffed with goodness! Here's my e-mailbox:
Beyond the Red by Ava Jae – This YA SciFi  debut is about an uprising on an alien planet. Sounds cool!
First Touch by Laurelin Paige – This is the first book in a romantic suspense duology about a woman searching for a missing friend. She gets involved with the man who may know something about her whereabouts.
The Guest Room by Chris Bohjalian – Bohjalian's latest is a crime thriller that shines a light on human trafficking.
What She Knew by Gilly Macmillan – Rachel's 8-year-old son Ben vanishes in Bristol and everyone's a suspect in this psychological thriller.
The Year We Turned Forty by Liz Fenton and Lisa Steinke – Three friends turn back time to the year they turned forty and get the chance to change their future. But will making different choices make their lives better after all?
The Flood Girls by Richard Fifield – Rachel Flood returns to her hometown of Quinn, Montana looking to make amends. But nobody wants to hear it! I love a good heartwarming story with quirky characters and this one sounds fun.
Forgetting August by J.L. Berg – This is the first book in a New Adult two-book series about a second chance romance.
Between Shadows by Chanel Cleeton – Cleeton's latest is a London-set New Adult thriller about love and revenge featuring a trained killer.
Thicker Than Water by Brigid Kemmerer – This is a twisty murder mystery that has a paranormal element and dual POV.
Love, Lies and Spies by Cindy Antsey – This YA Regency romance debut sounds like lots of fun!
Thanks so much to: Sky Pony Press, St. Martin's Griffin, Doubleday, William Morrow Paperbacks, Atria Books, Gallery Books, Grand Central Publishing, Chanel Cleeton, Kensington Books, and Swoon Reads.
I also picked up a lot of ebook deals that were too good to pass up! How about you? What's new in your mailbox?
Related Posts