Mailbox Monday is a weekly event where we share our latest book arrivals. Link up and find new mailboxes to stalk at the Mailbox Monday blog!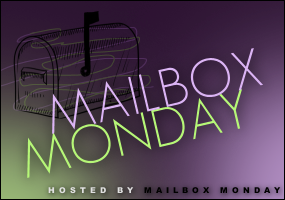 October is flying by! Do you have any fun plans for Halloween?
This week I'm taking my laptop in for repair so the blog may be quiet for a few days depending on how it goes. (I'm not the type of blogger that has blog posts scheduled months in advance)
What are you all reading – anything you're loving?
Here's my week in books:
ebooks for Review:
Finding Mr. Brightside by Jay Clark – Two teens are brought together by tragedy and fall in love. Also, the blurb mentions going to Taco Bell so I'm hungry and have The Killers song in my head.
Boys Don't Knit (In Public) by T.S. Easton – Ben takes a knitting class under false pretenses, and finds that he likes it. But he hides his hobby from his friends and family to avoid embarrassment. Off topic- I've always wanted to learn to knit!
Purchased:
The Body Electric by Beth Revis – This numbered, signed limited edition came with lots of little goodies. The cover is so pretty in person too. I haven't read the last Across the Universe series book yet, but this new scifi book looks good. It's about a girl who can enter other's dreams, but then she finds out someone has been inside her mind and altering her memories. Interesting!
From the Library:
Station Eleven by Emily St. John Mandel, read by Kirsten Potter – This literary post-apocalyptic novel has been drawing rave reviews!
The Girls from Corona del Mar by Rufi Thorpe, read by Rebecca Lowman – This is about a longterm friendship and life's ups and downs.
What Alice Forgot by Liane Moriarty – I really liked Moriarty's last two books so I thought I'd catch up on one of her older titles.
What's new in your mailbox?
PS. I have several giveaways ending very soon- last call for entries:
A Breast Cancer Alphabet by Madhulika Sikka (ends Tuesday at midnight)
Tomboy by Liz Prince (ends Tuesday at midnight)
Writing Great Books for Young Adults by Regina L. Brooks (ends Tuesday at midnight)
Alice & Freda Forever by Alexis Coe (ends Wednesday at midnight)
Related Posts