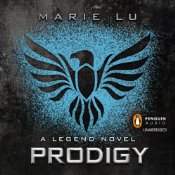 Book: Prodigy (Legend, book two) by Marie Lu, Penguin Audio, January 8, 2012 (Hardcover on sale Jan. 29)
Audiobook Info:  YA Dystopia, Own audiobook via Audible credit.  Audio length: 10 hours 10 minutes, read by Steven Kaplan and Mariel Stern.
Rating: 4.5 / 5 Stars
More Info: Audible | Goodreads | Amazon
I held off on reading this book for as long as I could. I've had a copy for a long time, but I didn't want to read it too early when there will be another long wait for the next book. But- when I saw Prodigy pop up on Audible I couldn't resist it any longer. The sequel to Legend is so exciting- I couldn't stop listening. It has lots of heart pounding action and veers off in unexpected directions. The audio experience was also a treat and brought the excitement to life. I think this series is right up there with Divergent, and even though I don't read a ton of dystopia anymore I'll always have room for this series.
When Prodigy starts out, Day and June are on the run in Las Vegas. Day is injured and they meet up with Patriot rebels who agree to help them. In exchange, they have to prove their loyalty by agreeing to assassinate the new Republic Elector. Seems like an easy decision, right? The Republic has hurt Day and June in a lot of devastating ways, and maybe it's the right time to make a change. But things are not all black and white, and Day and June have to decide the best course of action on their own.
Day and June alternate POV again in Prodigy. I have to hand it to Lu that she kept me involved even with the introduction of new characters and through character separations. Day and June have both been through so much, and have each other's backs, but still have a lot to learn about each other at the same time. Doubts and insecurities plague our duo this time around.
There is more information filled in about the Republic, Colonies, and Patriots and it's eye opening to learn more about them. Even though Day and June travel to several cities, we still keep tabs on Los Angeles as well. The characters are a big part of why I love this series, though the setting certainly plays a role as well and takes on a character of it's own in a way. And speaking of characters, Anden, Kaede and Tess play wonderful supporting roles in the story. And I especially look forward to seeing how Anden's part develops in the next book.
I always know when I have a good audiobook on my hands because I get a cleaner house because I want to keep listening, such as the case with Prodigy. Steven Kaplan and Mariel Stern read the audiobook, and both narrators are new to me. Since I read the book Legend I already had an idea in my head of how the characters should sound. Stern lines up pretty well to how I envisioned June – she sounds like a young girl of privilege from Los Angeles. And Kaplan is outstanding as Day and nails the tone of his character. Both narrators convey emotion in their readings and make the action scenes that much more tense and thrilling. About three quarters into the book I'd barely notice the narration at all because I was so drawn in the story. I'd absolutely continue to listen to this series.
Ultimately I'm glad that I waited to read this book because that ending is brutal, and I don't want to wait any longer than I need to for the sequel. Can't wait to find out what happens next! Prodigy comes out in hardcover and e-book January 29th and the audiobook is available now.
Related Posts