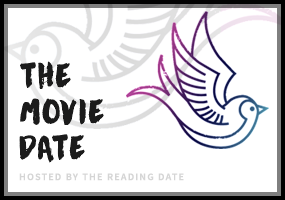 In this episode of The Movie Date, Andrew catches up with The Girl on the Train. Based on the novel by Paula Hawkins, this Universal Pictures thriller stars Emily Blunt and is directed by Tate Taylor.
After a failed marriage, an alcoholic commuter becomes obsessed with two couples whose homes she sees from the train every day—one of which includes her ex-husband.
Ending narration: "We are tied forever now, the three of us. Bound forever by this story we share… Anything is possible, because I am not the girl I used to be."
A rare example of a movie that works better than the book—or maybe just rare for me since I never read books! I got maybe a third into Paula Hawkins' bestseller and, though intrigued, put it down: the storytelling seemed sluggish and the multiple-protagonist structure kept me from identifying with any of the characters.
After seeing the movie I now realize there's also a tone issue with the book (at least the way it struck me). Our main protag Rachel (a perfectly cast Emily Blunt) is a hot mess; in the book her alcoholic stalker foibles struck me as outrageous, almost comical—a sad, drunken Bridget Jones, if you will. As Rachel (in first person) reveals her barely remembered acts of desperation, I couldn't help but feel detached and disapproving (kind of like the cop played here by Alison Janney). Happily the film, thanks to Blunt's superb performance, brings out the necessary poignancy in Rachel's character: her hollow, haunted stare makes us sympathize with her strange actions even before we learn her backstory. 
Rachel: "The front door was open. It's not like I broke in."
Call this "three women and the three men who love them." A double-triangle, if you will. From the train Rachel keeps an eye on restless young nanny Megan and her frisky hubby Scott; a few doors down are new parents Anna (Rebecca Ferguson) and Tom, whose kid Megan babysits. (Tom and Rachel were once married, we learn, and broke up due to Rachel's inability to conceive a child.) Finally, Megan is spotted kissing a bearded man, who turns out to be her therapist Kamal. After glimpsing this infidelity, Rachel stumbles off of a particularly drunken commute to confront the "whore" Megan—but blacks out. Rachel awakens at home bruised and covered in blood—hers or someone else's?—and learns that Megan has gone missing.
From here on in, it's pretty much a murder mystery (or so we suspect, since no body been found). But more than that—and what sets the film apart from countless 90s crime-of-passion thrillers—is Rachel's own blurriness as a narrator. This is really a psychological thriller, and as such lots of fun. Because there are so many similarities in the three women's lives—similar hobbies, similar looks, same houses, same mothering issues, involved with the same men—we suspect that two or even three might actually be the same person. Meanwhile, Rachel is doggedly trying to find Megan's abductor/killer—but will the trail lead Rachel back to herself? Are the scenes of violence she glimpses fantasies or memories?  
As with the book, this film was seen as the followup to the smash Gone Girl from two years prior. It would make a superb double bill with the Fincher film; though the stories and solutions are quite different, they both play as female-driven, bad-relationship revenge fantasies with unreliable narrators. At the time I thought GG was excellent, but I think I prefer TGOTT; the earlier film's elaborate solution stretched credulity for me, while the latter's simple and credible plot enabled a more emotional ride.
Note: The film changes the setting from the London suburbs to upstate New York and/or Connecticut. Though Blunt is allowed to retain her Brit accent, Ferguson surrenders hers for a credible American inflection.
You can catch The Girl on the Train now on streaming or dvd. If you've seen this one, did you prefer the movie or the book?
Related Posts