Sometimes you need a change of pace to snap you out of a reading rut. And a book about a professional assassin who poses as an intern certainly fits the bill. This book recalls classic pulp fiction, and the pop culture nods, plot twists, quirkiness and action are Tarantino-esque. The Intern's Handbook has snappy dialogue and a quick pace for casual listeners or die hard fans of the thriller genre.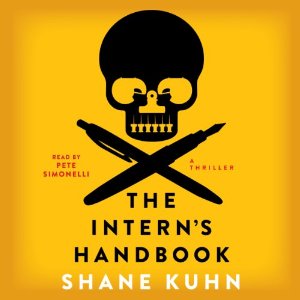 Book: The Intern's Handbook by Shane Kuhn. Simon & Schuster Audio, On Sale Now
Book Info: Received for review from Simon & Schuster Audio. Running time: 8 hrs, 11 mins. Read by: Pete Simonelli. Also available in ebook and hardcover from Simon & Schuster 288 pages.
More Info: Goodreads | Audible | Amazon | IndieBound
Cover Story: Love the office supplies in the cover art! The pushpin grin is my favorite. It's clever and dangerous and ties nicely with the tone of the book.
Office Space: The intern assassins work for a company called Human Resources, Inc. What a perfect cover for an assassin! Interns can sometimes get lost in the crowd, so it's easy for them to get their intel without being noticed and stab you in the back so to speak. I've been an intern more than once, and been responsible for interns, and have to agree that it's the perfect anonymous cover.
Name Dropping: Our hero John Lago is a big movie buff and has a movie on the tip of his tongue to match any given situation, from Gross Pointe Blank to An Affair to Remember. This all adds to the "movie feel" nature of the story telling. John Lago reminded me a lot of John Cusack's Martin Blank, and in fact one of the lines John quotes from the film is very appropriate: "If I show up at your door, chances are you did something to bring me there."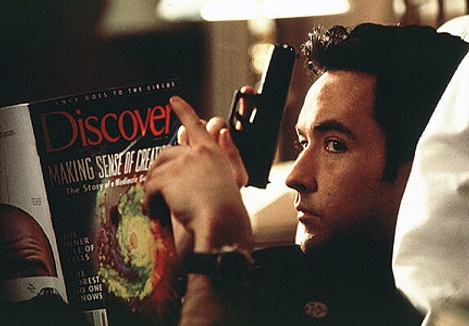 John Lago 007: John relays his story through The Intern's Handbook, as if the reader is a new intern learning the ropes. The handbook is also a sort of confessional for John. In this line of work, the "interns" must retire by 25 to keep their cover believable. At 25, John is a seasoned professional who has seen it all. He has a briefcase full of tools of the trade and is his boss's go-to guy. Now he's on his Last Job in the business – what could go wrong? John is looking forward to reinventing himself and settling down, though this is the only life he knows. He's a badass assassin, cool under pressure, and fast thinking. If you're a shady executive you don't want John Lago to be your intern.
True Romance: There is some romance in this book to break up the violence and mayhem. Alice is a femme fatale type John meets on the job and they strike up an unconventional sort of relationship.
Royale with Cheese: If you are kinda so-so on mystery-thrillers but you like Tarantino films, Jim Thompson books, and pop culture references sprinkled throughout your books you may want to give this one a chance. It is so cinematic in feel and like a classic film noir. The author, Shane Kuhn, has a screenwriting background so I'm sure that's no accident. The dialogue is snappy and the story moves quickly and keeps you engaged.
Plot Twist: This book has three stories in one and John Lago's final assignment has many twists and turns. It's one of those just when you thought it was over the shit hits the fan type stories.
The Intern's (Audiobook) Handbook: I listened to The Intern's Handbook audiobook, read by Pete Simonelli.  I am a fan of this narrator from the romance novels he's performed (under the name Sebastian York) including Emma Chase's Tangled and Christina Lauren's Beautiful series. Simonelli's voice is strong, confident and smooth and I'm smitten with it. He kind of has a Jeffrey Dean Morgan type of voice and is a really great storyteller. Simonelli's narration comes off so effortlessly and he embodies John Lago's cockiness and internal struggle in his performance. He makes all the voices distinct, and I like that his female voices are not overdone. Simonelli's voice swagger fits John Lago's  character like a glove.
Take a listen:
The lowdown: The Intern's Handbook is like a summer popcorn movie with lots of action. There's not as much actual intern office stuff as I would have liked, though I think the premise is perfect for the movies and the fast pace and twists are a blast.
Read if you like: Black comedies, pop culture references, Tarantino movies, pulp fiction. There's also a free prequel novella called Casual Friday you can check out to get the flavor of the book.
Author Shane Kuhn discusses the book:
Related Posts