Abigail Tarttelin's novel Golden Boy is an intense and emotional read that centers on Max Walker, an intersex teen. We follow Max's story through the eyes of the important people in Max's life: Max's parents, brother, doctor, and girlfriend, and Max as well. This book provides food for thought about gender roles and identity, and this book really stretched my mind. Max's story is inspiring, heartbreaking, and thought provoking. If you're interested in crossover books, gender issues and just great storytelling I think you'll really respond to Golden Boy.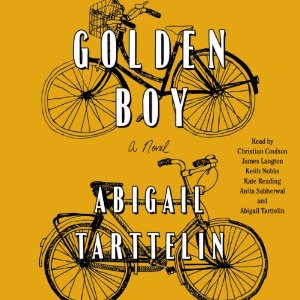 Book: Golden Boy by Abigail Tarttelin, Simon & Schuster Audio, May 2013
Book Info: Audible purchase. Running time: 12.5 hours. Read by a full cast: Christian Coulson, James Langton, Abigail Tarttelin, Keith Nobbs, Kate Reading, Anita Sabherwal. Also available in e-book or hardcover, 352 pages from Atria Books.
Awards: 2014 Lambda Literary Award Finalist, Winner of the 2014 Alex Award, Booklist Top 10 First Novel of 2013, School Library Journal Best Book of 2013
The Story – Sixteen-year-old Max is a "golden boy": attractive, popular, athletic, and intelligent, and a devoted son and brother. But Max is hiding a secret from the world- the fact that Max is intersex (the updated, preferred term for hermaphrodite.) The family is in the public eye when Max's father decides to run for office, and it's only a matter of time before the cat is out of the bag.  Max is usually sunny and grounded, but when tragedy strikes it shakes Max to the core. Now Max is questioning everything he previously took for granted.
Author Abigail Tarttelin made this book trailer:
The Characters – The multi-POV format works very well in Golden Boy. It's enlightening to get different reads on Max and see that how people react is not necessarily what you'd expect. The parents (Karen and Steve) provide the history and why they made certain medical and gender choices about Max from the beginning, and where there was conflict between them. Steve's POV comes in late in the story, and before that we have to rely on  only Karen's side of the story. Max's younger brother Daniel is quite a character – he says just what he means, and hero worship's Max. Archie is Max's doctor and is one of the first in Max's circle of trust. And Sylvie is Max's love interest.
The Setting – Golden Boy takes place in a suburb of Oxford, England. We follow Max to school, home, athletic events, parties, dates, and to doctor's offices.
Gender Roles  – This was my first book on intersexuality and it opened my eyes about my own gender assumptions.  There are not a lot of fiction or YA books out there that tackle intersexuality and gender issues and Tarttelin expertly addresses these topics and makes me hunger for more.
Secrets and Lies – In my eyes there are two villains in this story; both betray Max's trust, leaving physical and emotional scars.  You'll have to read the book to find out who they are. And in this book we see how secrets can hurt a person so much when they eat at you over time.
The Writing – This book had me so on edge- I was so worried about Max and angry and stressed about the situation. At one point at the end I was afraid I'd throw my iPhone across the room but thankfully it didn't come to that. I had to put the book down though after a very traumatic incident in the narrative- it was just so vivid and upsetting. But my thoughts kept straying back to Golden Boy and I returned of course to finish this powerful story. Abigail Tarttelin seems like she's well versed in the intersex topic and makes this book informative and quite gripping. The multi-pov's work together so beautifully and give the reader such a well-rounded reading experience. Can't wait to read what Tarttelin writes next.
The Audiobook – Yay for full cast audiobooks! This audiobook is perfection- there's a narrator for each characters' POV, which fully brings Max's story to life. The vocal performance of Max in particular is splendidly portrayed. It was just like listening to a play, so well acted and full of emotion. I did speed up the narration a little bit because I was eager to find out what happened and the audio sounds great at 1.25x.If you are inclined to listen to audiobooks, you won't regret listening to this one.
Judge a book by its cover – There are a few different covers for Golden Boy. I'm not sure the US hardcover really is the best fit for the story, though it is attractive. The paperback kind of reads more YA and may attract more readers. Which cover do you prefer?
Read Golden Boy if you like: YA/Fiction crossover, coming-of-age stories, reading about gender and sexuality. This would also make an excellent book club choice- check out Simon & Schuster's readers guide for discussion questions and additional resources.
Abigail Tarttelin talks about Golden Boy:
Related Posts