Mailbox Monday is a weekly event where we share our latest book arrivals. Link up and find new mailboxes to stalk at the Mailbox Monday blog!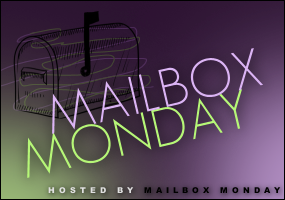 Here's my week in books: 
Books for Review:
Deep Blue and Rogue Wave by Jennifer Donnelly (Waterfire Saga #1 & 2) – I"m excited to catch up on this mermaid-themed series. Such gorgeous covers too, right?
New Money and Independently Wealthy by Lorraine Zago Rosenthal – New Money is a new adult modern-day Cinderella, and the follow up is set during the holidays and involves mystery and romance. Looks good!
Library Audiobooks:
A Little Something Different by Sandy Hall, read by Will Damron, Amy Rubinate  – This YA romance between two college students is told from 14 different viewpoints, from the best friend and roommate, to Starbucks baristas, and even a squirrel!
Echoes of Scotland Street by Samantha Young, read by  Elle Newlands – On Dublin Street book five, featuring Shannon, a girl who has sworn off bad boys, until Cole tries to change her mind.
Can't Look Away by Donna Cooner, read by Sandy Rustin  – This is about a vlogger, bullying, grief and sisters.
Thank you so much to: Big Honcho Media and St. Martin's
What's new in your mailbox?
Related Posts