Mailbox Monday is a weekly event where we share our latest book arrivals. Link up and find new mailboxes to stalk at the Mailbox Monday blog!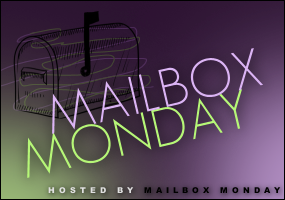 Here's my week in books:
Print & eBooks:
Girl Online
by
Zoe Sugg
– The author Zoella is a famous English fashion and beauty vlogger and coincidentally her book debut is a YA novel about the life of a blogger.
More Happy Than Not
by
Adam Silvera
– This YA debut is set in the Bronx and is about coming to terms with who you are. Sounds like there's a sci-fi aspect to it too.
Things We Know by Heart
by
Jessi Kirby
– Kirby's latest is about a girl who meets the recipient of her boyfriend's donated heart.
 Made You Up
by
Francesca Zappia
– I'm in love with this book cover, but the premise sounds great too. This debut features an unreliable narrator (she has paranoid schizophrenia) trying to figure out what's real.
Making Pretty
by
Corey Ann Haydu
– This is a romantic coming-of-age about sisters, friendship and love.
Review/Library Audiobooks:
The Pied Piper of Hamelin
 written and performed by
Russell Brand
– This MG book is a retelling of the famous Pied Piper story, told in Brand's special brand of humor.
Mermaids in Paradise
by
Lydia Millet
, read by
Cassandra Campbell
– This funny novel is about a honeymooning couple who spot mermaids in a coral reef.
Dear Daughter
by
Elizabeth Little
, read by
Bonnie Dennison
– A daughter sets out to find her mother's murderer (a crime she was incarcerated for).
Thank you so much to: Simon & Schuster, Bloomsbury, Atria Books, Soho Teen, HarperTeen, Greenwillow Books, Katherine Tegen Books, and Simon & Schuster Audio
What's new in your mailbox?
Related Posts