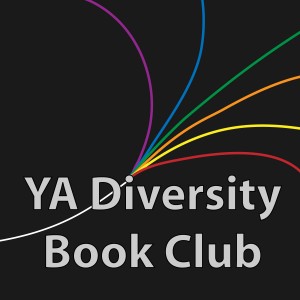 In the YA Diversity Book Club, we chat about the latest YA books that celebrate diversity. Our book club includes Sandie @ Teen Lit Rocks, Kristan @ We Heart YA and Kristina @ Gone Pecan. This month we are celebrating our one-year anniversary!
It's hard to believe it's been a year since this book club began! We were inspired by the We Need Diverse Books movement to read more diversely. Here's a look at the books we've read in our first year:
I hadn't really been in a book club before so this has been an interesting experience. I really like our book chats and I always end up looking at a book differently based on the insights of my fellow book club members. The author interviews also help to enhance the experience as the authors talk about their inspiration and feelings on diversity in publishing. Each month a couple of us will have "freebie" posts where we can expand on one of the topics found in the book. At first that really intimidated me but now I enjoy these discussion posts.
In terms of choosing the books we read we all keep an eye on upcoming books and make suggestions to the group. One thing we noticed is that we are light on fantasy reads so we are going trying to fix that going forward.
As a group we have varied interests and we try to cover a wide range of topics in our book selections. My main interest is LGBTQIA and I'd love to see more books about gender issues. I have a transgender teenager and so of course I'd like for him to be able to see himself in the books he reads.  So far there is not a big selection out there. (If you have any favorites let me know!)
Something we want to do more of in the next year is to reach a wider audience with read-alongs. With that in mind, Kristan put together a group Tumblr (yadiversitybookclub.tumblr), Twitter (@WeReadDiverseYA) and hashtags #YADBC and #YADiversityBookClubs so we can open the book club up to more people. We really want to know what you have to say so check out our book schedule and if you are interested in reading along with us please do!
We have some great books lined up to read for the rest of the year and right now we are planning out our 2016 schedule. What 2016 diverse books have caught your eye?
Since it's our anniversary month we don't have a book of the month feature, but check back next month when we are featuring EVERYTHING, EVERYTHING by Nicola Yoon. In the meantime, let's celebrate this milestone with a giveaway!
YA Diversity Book Club Anniversary Giveaway:
Add some diverse books to your bookshelf! One (1) winner receives all the books pictured above:
Everything Leads To You by Nina LaCour (paperback)
Under a Painted Sky by Stacey Lee (hardcover) – our last book club pick!
More Happy Than Not by Adam Silvera (hardcover)
Hello, I Love You by Katie M. Stout (hardcover)
Like No Other by Una LaMarche (hardcover) – our first book club pick!
Joyride by Anna Banks (ARC)
Giveaway open to US addresses only, to ages 13 and up and ends one week from today.
BE SURE TO CHECK OUT ALL OF THE YADBC ANNIVERSARY POSTS:
Related Posts