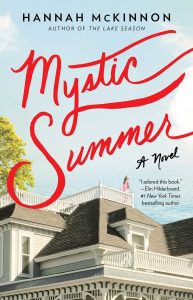 Mystic Summer
by
Hannah McKinnon
Published by
Simon and Schuster
on June 7th 2016
Genres:
Fiction
,
Contemporary Women
,
Family Life
,
Literary
Pages:
304
Format:
ARC
Source:
Publisher
Goodreads
A chance run-in with a college boyfriend puts a young woman's picture-perfect life in perspective in this warm-hearted and lyrical novel—from the author of The Lake Season.

Since finishing graduate school, Maggie Griffin has worked hard to build an enviable life in Boston. She's an elementary school teacher in a tony Boston suburb, a devoted sister, and a loving aunt. With her childhood best friend's wedding quickly approaching and her own relationship blossoming, this is the summer she has been waiting for.

But when Maggie's career is suddenly in jeopardy, her life begins to unravel. Stricken, Maggie returns home to seaside Mystic, Connecticut, where she expects to find comfort in family and familiarity. Instead, she runs into Cameron Wilder, a young man from her past who has also returned home, and whose life has taken a turn that puts Maggie's city struggles in harsh perspective. When tragedy strikes for Cameron, Maggie is faced with big decisions as she weighs what matters most and strives to stay true to the person she's become.

Set against the gorgeous backdrop of a New England summer when past and present collide, Mystic Summer is a gorgeous novel about looking back, moving forward, and the beauty that blooms when fate intervenes.
Happy Summer! Temperatures are soaring in my neck of the woods and all I feel like reading are light beach reads. Hannah McKinnon's (The Lake Season) latest book Mystic Summer fits the bill perfectly and made me crave a visit to Mystic, CT, home of the famed Mystic Pizza:
In Mystic Summer, Maggie's a private school teacher who is frustrated by entitled students and their parents who want their grades handed to them. Her job is on the chopping block due to budget cuts and she heads home to Mystic to regroup. She has her best friend's wedding to plan, carves out time for her sister and to spend time with her boyfriend. Back at home though, she finds herself spending lots of time with her ex, Cam, the one who got away. Which guy will win her heart?!
This is a fun, sweet romantic read with intriguing characters and relatable situations. The charming seaside locale, summer setting, foodie descriptions, and themes of home, family, and love kept me distracted during sweltering days. Keep this one in mind when packing your beach bag this summer.
Mystic Summer is on sale now.
Find it: Amazon | IndieBound | Audible | Goodreads
About the Author:
Hannah McKinnon is the author of The Lake Season and Mystic Summer. She graduated from Connecticut College and the University of South Australia. She lives in Fairfield County, Connecticut, with her family, a flock of chickens, and two rescue dogs.
GIVEAWAY
Enter to win a copy of Mystic Summer!
Prizing provided by Simon & Schuster
Giveaway open to US and Canada residents
Fill out the Rafflecopter to enter:
Follow along with the Mystic Summer blog tour:
Related Posts