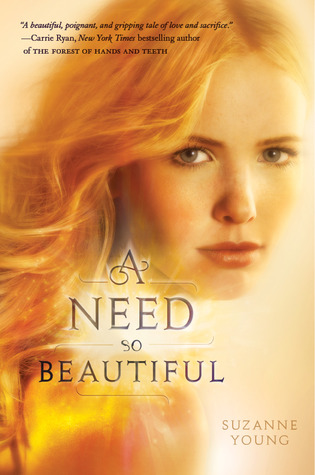 Book: A Need So Beautiful by Suzanne Young, Harper Audio, June 21, 2011

Genre: Young Adult Paranormal
Format: Audible Audiobook: 7 hours, 20 minutes, read by Hannah Smith
Rating: 3.5 / 5 Stars
Buy the Book/More Info: Audible | Amazon | IndieBound | Goodreads
Series: Book 1 of a series
A Need So Beautiful breaks new ground with the angel concept and delivers an engaging story about love, fate and sacrifice where there are no easy answers. The main character struggles to choose the correct path and faces impossible choices. I appreciated the original approach taken with this story, but felt disconnected with the characters, possibly due to the audiobook narration, which I didn't find a perfect match to the story.
The main character Charlotte is sort of an angel, and her talent is feeling a Need, a pull that won't be ignored, whenever someone nearby needs help. She gets a type of psychic bond with the person in need of help and relays some information to them that will change their life. However, each time she does help someone it causes irreparable harm to her body and makes her become more and more forgettable to those closest to her.
Charlotte has close relationships on earth that are in jeopardy due to her unique ability. I liked that she has a long-term boyfriend in the story. She and Harlin have some sweet interactions, although their relationship is tested as Charlotte's gift gets in the way. She does have a mentor of sorts that she can turn to for advice, but that doesn't make her difficult choices any easier.
Charlotte's struggle to fulfill her destiny to help others versus prioritizing her own desires was thought provoking. She faced real consequences with her actions, whether it was ignoring the Need, or accepting it. Both choices had high stakes attached and make the reader conflicted as well.
The audiobook narrator's voice did not line up with how I expected Charlotte to sound, and caused me to have less of an emotional connection with the character. I guess with Charlotte's life experience and tragedies I expected her to sound less naive. The reader handles the other characters voices fine, including the British accent of Monroe. Even though the story is fast paced I struggled to get through the audiobook and had to put it aside for a break.
What sets A Need So Beautiful apart from other books about angels is the unique paranormal talent, the thought provoking difficult choices, and the surprising twists and turns. The ending is a game changer, and that alone makes me curious to read the sequel, but probably the book version next time. The sequel, A Want So Wicked, is due out in July 2012.
Related Posts