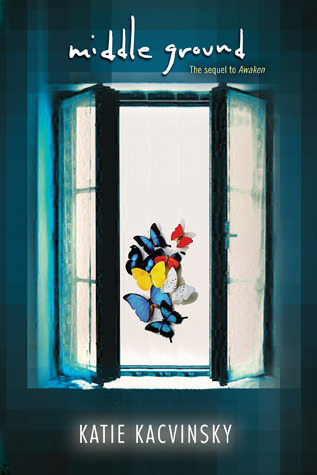 Middle Ground is book two of the Awaken trilogy by Katie Kacvinsky. I read Awaken over two years ago, so I was worried if I'd remember enough to get through the sequel. Luckily it all came back to me easily, just like connecting with old friends. I gave Awaken a five-star rating, and in fact it was one of the first books that got me hooked on romantic dystopia. Even though I'm not as into the category anymore, this series holds up, and the digital reliance topic is just as relevant today. Middle Ground is a solid sequel and I zipped through it quickly, sad to say goodbye to the characters once again.
The premise is that in 2060 schools are crime-ridden and too dangerous to attend in person – now all kids must attend digital school (DS). That shift leads to more and more reliance on technology. People rarely interact face to face anymore – all socializing is done online. The heroine, Maddie Freeman, is the daughter of the founder of DS and is boldly recruited by Justin into his rebellion. Justin is fighting for the simpler way of life before technology took over, and Maddie starts to see the light as well.  In the sequel, Maddie is sent to Los Angeles to live with her brother. She's still unwilling to back down on her stance on technology though and that gets her into trouble. She has to pay her dues in a detention center, where counselors try to "cure" her of her rebellious nature. This book takes a look at the balance of technology and human interaction – is there a middle ground?
It was cool to see the setting shift to my city, and hear about all the destructive earthquakes and the new building materials that make for safer cities in the future. A lot of the book is spent in the detention center with Maddie. She really comes into her own in this book and exhibits more confidence and leadership qualities that put her more on equal footing with Justin. The "cure" aspect of the detention center reminded me of Delirium, and it was hard to see Maddie wilt under the powerful hallucinogenic drugs at the center. She does find a sympathetic friend named Gabe who looks out for her when her friends can't be there. Maddie never gives up and learns a lot about herself and her motivations in the process.
We do learn a bit more about the elusive rebel Justin. I liked seeing him and Maddie as a rebellion supercouple, and to see Maddie hold her own beside him. This book is less about the romance and more about Maddie's journey, though there are also some swoon-worthy moments between the pair.
I like realistic dystopias like this that make you examine our society today to see where we might be headed. I bet this would make for some interesting discussions in schools about unplugging once in a while.
I'm so glad Kacvinsky is writing another book in the Awaken series. Though the ending is not too cliffhanger-y, it did leave me wanting more. I wonder what the next book will be called… hopefully there won't be too long to wait and find out. In the meantime I'll check out her First Comes Love contemporary series. If you like realistic or romantic dystopia give this series a try.
Middle Ground is Katie Kacvinsky's 4th novel and it came out in November 2012. I borrowed a copy from my local library. That's pretty old school, right? I remember feeling uncomfortable when I read Awaken on my kindle 🙂 Read more about the book on Goodreads.
Related Posts