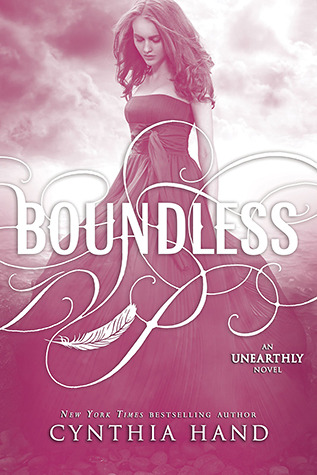 Boundless is a book that I've been dying to read but at the same time reluctant to read because I didn't want the Unearthly trilogy to end. On the surface I shouldn't love this series – it's about angels, and the ultimate love triangle after all, but love it I do. A lot of the anticipation has to do with who the heroine Clara will choose, Tucker or Christian, in one of the most heart-wrenching love triangles in YA. Beyond that, there is the question of Clara's purpose and what she chooses to do with her gift. The ending is satisfying and answered many of my questions, while also leaving me craving another story centered on this world.
As the final chapter of the Unearthly series begins, Clara, Angela and Christian transition to college life at Stanford. The three are all having visions they need to decipher, and try to balance school and angel responsibilities. Clara worries about Jeffrey, and is concerned about the Black Wing following her around. Tucker is miles away but still in her thoughts and dreams. Not much else I can say really about the set-up- there are a lot of twists and surprises you'll have to discover when you read the book. Clara's journey is emotionally satisfying and included appearances of many of my favorite characters.
Speaking of characters, the author does a great job with keeping an air of mystery around them. She kept me guessing the character motives throughout the series, particularly the angel characters. Are they all good or all bad, or shades of gray like some of the angels' wings? Clara has to decide who is trust worthy, especially with life or death at stake.
The love triangle, sigh. Cynthia Hand certainly keeps the suspense going! I like both Christian and Tucker and kept an open mind, though I'm ultimately Team Clara and had faith that she'd make the right choice in the end. The epilogue is a nice touch.
The writing is one of my favorite things about this series. I felt an emotional connection to Clara and the other characters and felt invested in the outcome.  Obviously this installment is more dramatic as all of the elements come to a head, but there are some smaller touching moments as well.
Cynthia Hand has done a wonderful job with this series, and I'd read anything she chooses to write. Hopefully she will revisit this world with a spin-off or prequel. It felt to me that there are more stories to tell. And Hand's teasing morsels about the past and future leave me eager for more. My favorite genre is contemporary, and these books do have a lot to offer contemporary fans, even though of course there is a big paranormal element. (Read this amazing interview with Cynthia Hand on The Midnight Garden to see what she's working on now!)  I am sad to see this series end.
I wasn't ready to let go of this series after Boundless, so I picked up the novella Radiant right after, and that helped to give me more closure. I did feel like I was missing a piece of the puzzle about Angela and Clara's summer trip to Italy, and that is covered in Radiant.
Radiant is Angela and Clara's story of their summer trip to visit Angela's family.  I think this is the first time we have heard Angela's POV, so it's interesting to get a peek inside her mind and some of her backstory and feelings about Clara and her place in the world. This story also fills in some of the blanks about Angela's mysterious romantic interest in Italy.
I don't really like this novella trend, and would prefer that all the pieces were included in the actual novel. But, this novella is better than average and the fact that Angela's perspective is included is a plus in my book. I think if I had read the novella before reading Boundless I would feel more of an investment in Angela's situation. Overall, I think Radiant is worth your time and provides additional character insight.

I purchased copies of Boundless and Radiant, and you can read more about the Unearthly series on Goodreads.
Related Posts